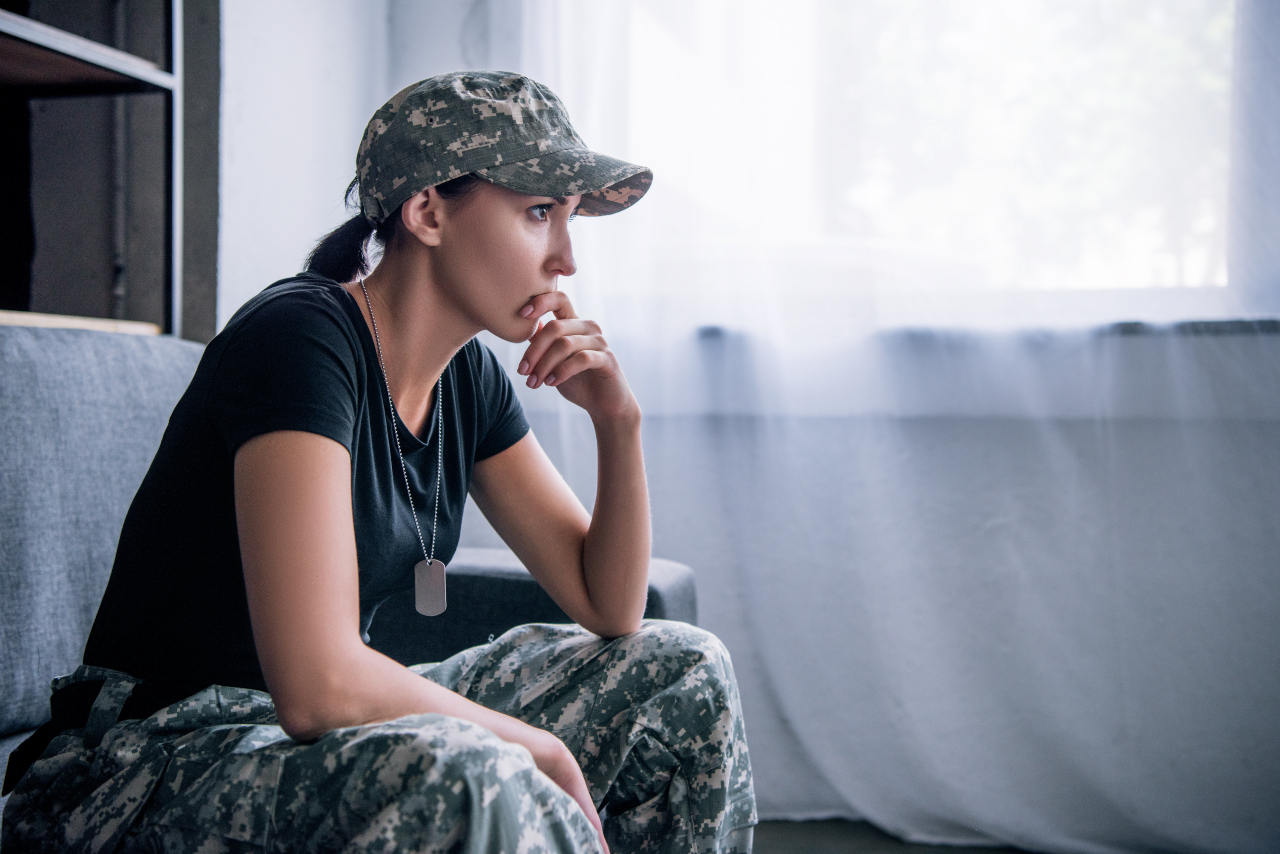 We understand mental illness and the difficulties it creates for those who suffer from it. At our San Diego Mental Health Treatment Center we are sensitive to your challenges. Solara will find every possible solution to enable you to live the life that you are meant to live.
MENTAL HEALTH AND WELLNESS
Breathwork for Mental Health
While breathing is a subconscious process, one can deliberately choose to control how they breathe, a practice known as breathwork therapy. This exercise offers many advantages to an individual's mind, nervous system, and entire body. It is particularly beneficial during recovery from substance misuse, mental health illness, or both.
Solara Mental Health in San Diego offers breathwork on an individual or group basis. Breathwork is a holistic method used in addition to evidence-based therapies to help treat various mental health disorders in veterans. A treatment plan is customized to fit the individual needs of veterans and their diagnoses.
What is Breathwork for Mental Health?
Breathwork involves regulated breaths, where one consciously manipulates their rhythm to influence their psychological state, temperament, and physique. A Solara mental health expert in San Diego can direct one on paying attention to each deep breath and its effect on their emotions. This breathing exercise aims to establish harmony between the mind and body. There are many breathwork techniques to explore, including the box, diaphragmatic, pursed lip, alternate nostril, resonant, and 4-7-8 breathing.
Breathwork treatment, also known as "integral breathing therapy," uses unique breathing techniques to assist patients in safely uncovering and processing their physical, mental, or emotional scars. These scars could otherwise impede their healing and recovery capacity. An expert guides the patient into an altered state of consciousness through regulated, deliberate breathing. Patients may still feel their emotions in this unusual level of awareness, but they do so from a safe distance.
While breathwork has been around for many years, its popularity has recently grown tremendously. It is part of the many therapeutic and fitness regimens that are currently acceptable, with most people linking its techniques to yoga and mindfulness.
What are Benefits of Breathwork for Mental Health?
Breathwork mainly addresses the following, among other conditions:
Uncontrolled anger

Emotional ramifications from physical pain
Anxiety & Stress Control
During recovery from various forms of addiction, anxiety and panic episode symptoms might be frequent. The body may emit stress hormones as one's heart races, and a fight-or-flight response takes over.
Reduced stress and anxiety are one of the chief benefits of breathwork. The practice encourages one to complete their stress cycle, which can help prevent stressful events from triggering the fight-or-flight reflex. Being a mindfulness technique, it also aids persons experiencing anxiety to center their minds on the current and let go of the past while reassuring their nervous system of safety.
Helping to Ease Physical Pain
Deep breaths are beneficial in managing physical and chronic pain. This is partly because many breathing exercises bring about a sense of calm in stressful or painful settings, and an expert breathwork guide knows how to divert the mind's attention. The practice also significantly contributes to a happier mindset, which is helpful for individuals experiencing physical pain.
Aiding with Insomnia Management
Insomnia is one of the common things experienced by those starting their recovery journey. They may have trouble sleeping or wake up too early and have trouble falling back to sleep. Breathwork can help such individuals sleep better all night long.
Breathwork can also help to manage the triggers of insomnia. Stress and stimulants, such as caffeine and social media, are some of the things that interfere with the nervous system, making it difficult to fall asleep. Breathwork calms the nervous system, increases melatonin synthesis, and promotes peaceful sleep habits.
Assisting with PTSD Management & Trauma Recovery
Practicing breathwork is very helpful for those who want to address their past trauma or need a new method to deal with their PTSD. The practice helps to manage trauma triggers or intensely stressful sensations as they appear. Many innovative breathwork techniques can also facilitate guided healing sessions, making them helpful for those seeking a conscious way to advance in life.
Depression Management
When combined with other therapies, breathwork has shown value in managing depression. It enhances emotional health and cultivates appreciation because of its capacity to change one's mindset and allow one to focus on the present. Besides, progressive breathwork techniques emphasize healing, which is also helpful for those experiencing symptoms of depression.
Heightening Mood & Self-Esteem
Many people practice breathwork to elevate their mood and increase their self-love, self-esteem, and courage. These exercises help those struggling with harmful thoughts and emotions, particularly those who are self-centered and egoistic, stay in the present. It calms their minds and helps them achieve tranquility. Deep breaths enhance one's joy, thankfulness, and contentment, while also improving their self-perceptions.
Countering Addiction Problems
Breathwork has gained popularity as a practical therapeutic approach for treating various forms of addiction, particularly when combined with 12-step programs and other treatments. Its relaxation techniques and strategies help individuals resist temptations that cause them to relapse. Many individuals claim that frequent breathwork practice gives them a powerful feeling of control and self-awareness.
How Does Breathwork for Mental Health Work?
Breathwork develops one's ability to work with the autonomic nervous system (ANS) – the part of the brain that is in charge of involuntary actions. It all works by teaching one how to control breathing behavior.
The sympathetic nervous system activates during stressful situations, speeding up the body's respiration and pulse rate. When the body no longer requires elevated cortisol, oxygen, or glucose levels, the parasympathetic nervous system assumes control and puts the body back to rest. This system, however, only sometimes operates as intended.
Individuals constantly manage different stressors, as the sympathetic nervous systems are slightly active throughout the day. Since the body is not in the best possible condition for rest or recovery, chronic stress from this can cause mental, physical, and emotional issues. Besides, quick breaths leave one alert and worried. 
Breathwork experts encourage slow breaths, which might help one feel more at ease and alive. The self-healing benefits accumulate over time as one continues perfecting their breathwork techniques.
Breathwork for Veterans
Breathwork techniques can be helpful in symptom reduction for PTSD and depression which are two mental health disorders that are commonly seen in the veteran population. Connecting to breath can allow stillness, patience, and acceptance. 
Solara mental health provides breathwork and other holistic methods of treatment in addition to evidence-based therapies to help veterans find recovery from mental health disorders. Solara is contracted with the VA, which gives us the unique opportunity to provide for the veteran population. With approval from the VA, treatment, transportation, and housing can be provided.
Breathwork for Mental Health with Solara Mental Health
A deep breath is the secret to keeping your recovery-related mental clarity and concentration. Breathwork helps with a range of emotions and allows you to keep your mind at peace. The breathwork facilitators at Solara Mental Health treatment center can help you achieve a more mindful life. We treat a wide range of mood, anxiety, trauma, personality, psychotic, suicidal ideation, and co-occurring disorders, among other mental health issues.
Our mental health treatment center in San Diego, California, offers comprehensive inpatient for veterans who are struggling with their mental health. If you or a veteran you love are struggling with mental health disorders, reach out to Solara Mental Health today. Our team can answer any questions you have and give you a better understanding of our veteran mental health services.
Michelle Family
I want to thank you and the entire staff and support system at Solara for taking such good care of my sister. On behalf of my entire family, we want you all to understand that your patience and kindness stretches further than you can see… Thank you, again and again, from the bottom of my heart.
Terri
The Solara Treatment Program was a life-changing experience for me. To be able to heal in such a beautiful, peaceful environment, with such a terrific treatment team, was so amazingly positive. I have found my true self, again. I thank you and my family thanks you for helping me become the person I was meant to be.
Lauren
The Solara program is truly amazing. I've never had more clarity or more good energy in my entire life. The attention the physicians and the therapists gave me was outstanding. I feel like they truly understood and addressed my issues, which had consumed my life for years. Thank you all.
Dad
We are so grateful to you for the treatment and care you provided our daughter. She is doing unbelievably well now thanks to your program. We will gladly tell anyone we encounter that needs treatment about the wonderful work you do at Solara.
Bill
The program has given me the tools I needed to really gain stability. For the first time in years - maybe for as long as I can remember, actually, I'm learning how to cope and manage my stressors and triggers. I now believe that I can find some relief and happiness.
Husband
Solara was truly a life-changing experience for me and for our children, because of what you did for my wife! The treatment team was phenomenally supportive and perfect for helping her with her anxiety and depression. We are all now moving forward to put our lives back together and it started with you all in Pacific Beach. Thank you for what you do.
Bradley
The therapists and counselors and really whole team were extremely beneficial to me and my understanding of my issues. The treatment plan they developed was exactly what I needed
Alex
I have never felt better than I do now, since completing your program. The truly caring and supportive staff and the intensive program changed my life. What a neat place to stay for treatment - I love Pacific Beach! I have learned skills and behavior to move forward with my life thanks to you.
Watson Family
Solara's program was such a positive experience for our mom (and for us)! She had become almost impossible to deal with. Your entire staff was phenomenally supportive and kind and patient with her. We feel like we've got our mom back, now.
Lynn
Even though I'm not religious, I realized when I got sober that for the first time in my life I wanted to explore my spiritual side. I benefited hugely from the individual spiritual sessions that I had with Chris. I'm really grateful for that aspect of the whole treatment experience.
R.M. – Father
If not for Solara Mental Health, I am almost positive that our daughter would not be as advanced in her treatment, and would not have the almost miraculous confident and positive outlook that she has.
M.P. – Father
Your program provided our daughter with the most masterful therapist we have ever encountered (and we have used many).  She has had an unbelievable ability to see the long-term trajectory of our daughter's treatment and to approach her treatment in stages that fit where my daughter's development was.  We can't say enough positive about her.