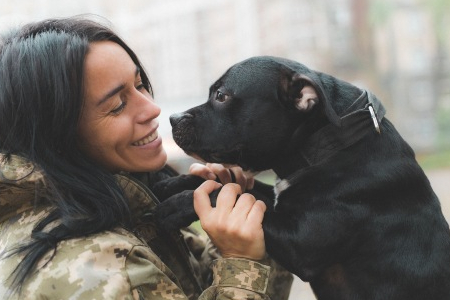 We welcome you. Our caring, experienced staff is ready to understand your needs and see you become the best possible version of yourself as you begin your new life's journey.

Mental Health and Wellness
Bring A Pet
Pet Therapy in Veteran Treatment
Solara Mental Health is recognized for its groundbreaking approach to mental health care, particularly for veterans. A key facet of this care model involves the inclusion of pets and service animals, a form of therapeutic treatment known as Pet Therapy. This resource page explores the benefits and applications of Pet Therapy at Solara Mental Health.
What is Pet Therapy?
Pet Therapy, also known as Animal-Assisted Therapy (AAT), involves the use of animals as a form of therapeutic intervention in mental health treatment. Studies indicate that interaction with pets can reduce feelings of stress, anxiety, and loneliness, making it a valuable tool in treating mental health disorders.
The Role of Pet Therapy at Solara
At Solara, Pet Therapy is seamlessly woven into their comprehensive treatment plan. Pets and service animals are encouraged, providing comfort and companionship to veterans navigating the path to mental wellness.
Pet-Friendly Environment
Solara has created an environment where patients can bring their pets, recognizing the critical role they play in mental wellness. The presence of a pet can provide a sense of home, reducing stress and fostering a sense of calm and comfort.
Getting Started with Pet Therapy
If you're interested in utilizing Pet Therapy as part of your treatment at Solara, reach out to our staff. We're more than happy to assist in coordinating this aspect of your care.
Benefits of Pet Therapy for Veterans
Veterans often face unique challenges in their journey towards mental wellness. The psychological toll from experiences like combat can lead to conditions like PTSD, anxiety, and depression. Pet Therapy, as implemented at Solara Mental Health, offers specific benefits for veterans navigating these issues.
1. Alleviation of PTSD Symptoms
Pets can provide a calming influence, helping to soothe the hyperarousal often found in PTSD. Interactions with animals have been shown to release endorphins that produce a calming effect, which can help alleviate symptoms such as anxiety, panic attacks, and stress.
2. Improved Mood and Reduced Depression
The companionship provided by pets can be a source of comfort and reduce feelings of isolation, a common problem among veterans. The non-judgmental, unconditional love that pets offer can help boost mood and reduce feelings of depression.
3. Socialization and Community Connection
Pets can act as social catalysts, helping veterans build connections with others. Whether it's meeting new people during walks or participating in group therapy sessions at Solara, these interactions can help veterans strengthen their social skills and foster a sense of community.
4. Physical Activity and Health
Taking care of a pet encourages physical activity, whether it's going for a walk or playing fetch. This physical activity can reduce stress, improve mood, and contribute to overall physical well-being.
5. A Sense of Purpose and Routine
For veterans adjusting to civilian life, pets can provide a sense of purpose and a structured routine. The responsibility of caring for a pet can boost self-esteem and provide a sense of accomplishment.
By incorporating Pet Therapy in its treatment regimen, Solara provides an additional avenue for healing and recovery. This form of therapy, in conjunction with traditional mental health treatments, can greatly improve the quality of life for veterans on their path to wellness.
Collaboration with Paws for Purple Hearts
Solara partners with Paws for Purple Hearts, a nonprofit organization that trains and provides service dogs to veterans. These trained dogs can provide a multitude of benefits, from reducing anxiety to helping with physical tasks.
The Mission
PPH's mission revolves around improving the lives of America's Warriors facing mobility challenges and trauma-related conditions such as PTSD and Traumatic Brain Injury (TBI). The organization does this by providing the highest quality service dogs and canine-assisted therapeutic programs; and by building active communities of Warriors, trainers, and volunteers.
How PPH Works
PPH provides service dogs, free of charge, to veterans and active-duty military personnel with mobility impairments and PTSD. Their dogs are trained in a variety of tasks that can help mitigate the symptoms of mental and physical disorders.
Collaboration with Solara Mental Health
In collaboration with Solara Mental Health, PPH adds an extra layer of support for veterans undergoing treatment. The presence of these trained service dogs within Solara's facilities provides additional comfort and assistance to those in need, thereby enhancing the overall effectiveness of the therapeutic programs.
Supporting Paws for Purple Hearts
Support for PPH can come in various forms, from monetary donations to volunteering. Every bit of support goes a long way in assisting this commendable mission of aiding our brave veterans.
The partnership between Solara Mental Health and Paws for Purple Hearts epitomizes a holistic approach to mental health care that recognizes the profound impact of animal-assisted therapy. With their combined efforts, they continue to transform the lives of veterans, one service dog at a time.
Pet Therapy for Veterans at Solara
Solara Mental Health is an Animal-Friendly Facility, we allow our veterans to bring their pets with them to treatment. Most of our staff are pet lovers, themselves, who understand the emotional bond between owners and pets. We also understand the therapeutic benefits that a pet can provide, while one is receiving treatment, such as relief of anxiety, stress, depression, and loneliness. Research indicates that a pet can also increase a sense of purpose, accountability, and selflessness.
Our aim is to minimize our patients' concerns and maximize the benefits of their treatment experience, which can be achieved with a pet companion, in many instances.
The Residences at our San Diego Mental Health Center have special accommodations designated for those who would like to bring their pet to our program. There is an additional cost for pets, as well as certain limitations on pet size, type, etc. and availability is limited.
For more information and space availability, contact us.
Michelle Family
I want to thank you and the entire staff and support system at Solara for taking such good care of my sister. On behalf of my entire family, we want you all to understand that your patience and kindness stretches further than you can see… Thank you, again and again, from the bottom of my heart.
Terri
The Solara Treatment Program was a life-changing experience for me. To be able to heal in such a beautiful, peaceful environment, with such a terrific treatment team, was so amazingly positive. I have found my true self, again. I thank you and my family thanks you for helping me become the person I was meant to be.
Lauren
The Solara program is truly amazing. I've never had more clarity or more good energy in my entire life. The attention the physicians and the therapists gave me was outstanding. I feel like they truly understood and addressed my issues, which had consumed my life for years. Thank you all.
Dad
We are so grateful to you for the treatment and care you provided our daughter. She is doing unbelievably well now thanks to your program. We will gladly tell anyone we encounter that needs treatment about the wonderful work you do at Solara.
Bill
The program has given me the tools I needed to really gain stability. For the first time in years - maybe for as long as I can remember, actually, I'm learning how to cope and manage my stressors and triggers. I now believe that I can find some relief and happiness.
Husband
Solara was truly a life-changing experience for me and for our children, because of what you did for my wife! The treatment team was phenomenally supportive and perfect for helping her with her anxiety and depression. We are all now moving forward to put our lives back together and it started with you all in Pacific Beach. Thank you for what you do.
Bradley
The therapists and counselors and really whole team were extremely beneficial to me and my understanding of my issues. The treatment plan they developed was exactly what I needed
Alex
I have never felt better than I do now, since completing your program. The truly caring and supportive staff and the intensive program changed my life. What a neat place to stay for treatment - I love Pacific Beach! I have learned skills and behavior to move forward with my life thanks to you.
Watson Family
Solara's program was such a positive experience for our mom (and for us)! She had become almost impossible to deal with. Your entire staff was phenomenally supportive and kind and patient with her. We feel like we've got our mom back, now.
Lynn
Even though I'm not religious, I realized when I got sober that for the first time in my life I wanted to explore my spiritual side. I benefited hugely from the individual spiritual sessions that I had with Chris. I'm really grateful for that aspect of the whole treatment experience.
R.M. – Father
If not for Solara Mental Health, I am almost positive that our daughter would not be as advanced in her treatment, and would not have the almost miraculous confident and positive outlook that she has.
M.P. – Father
Your program provided our daughter with the most masterful therapist we have ever encountered (and we have used many).  She has had an unbelievable ability to see the long-term trajectory of our daughter's treatment and to approach her treatment in stages that fit where my daughter's development was.  We can't say enough positive about her.