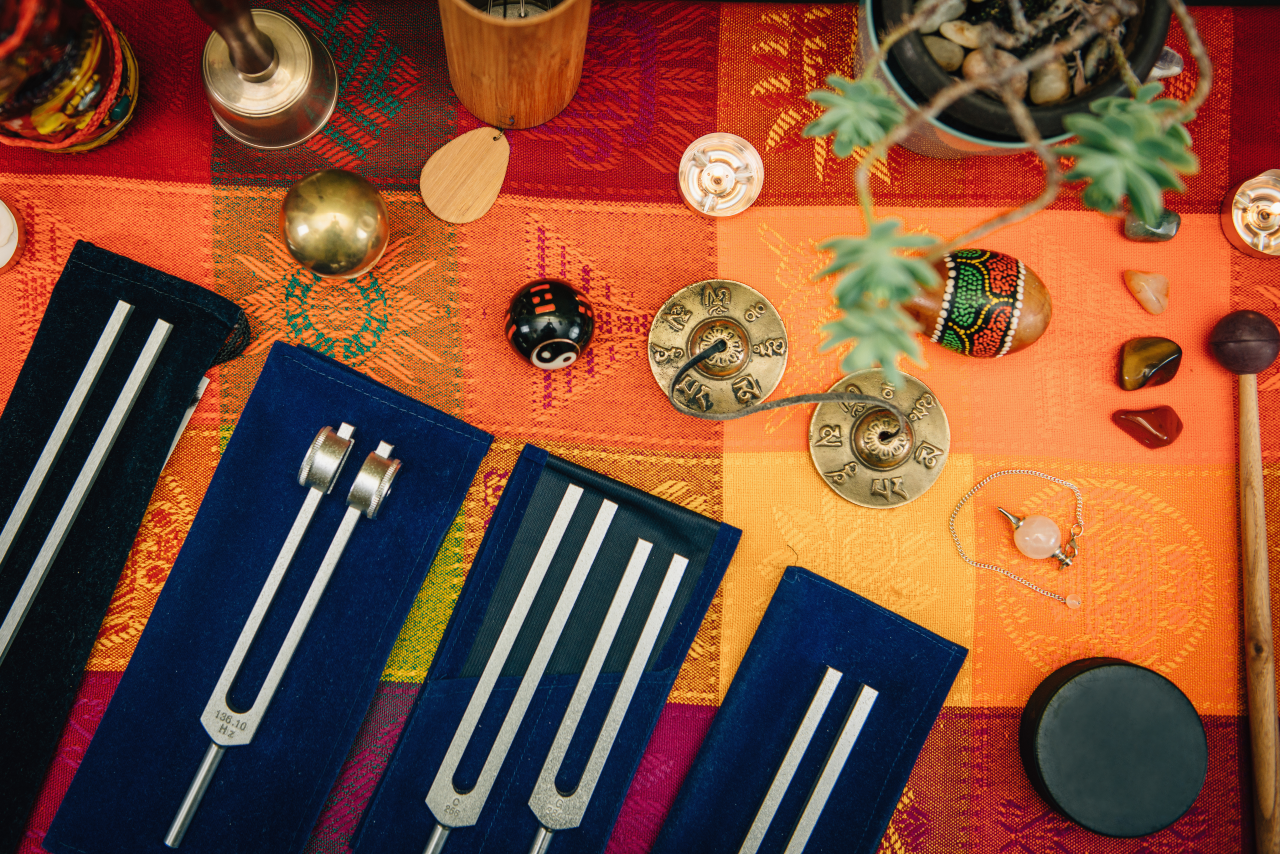 We understand mental illness and the difficulties it creates for those who suffer from it. At our San Diego Mental Health Treatment Center we are sensitive to your challenges. Solara will find every possible solution to enable you to live the life that you are meant to live.
MENTAL HEALTH AND WELLNESS
Light and Sound Therapy
Recent years have seen a rise in the use of sound and light therapy for treating mental illness and for a good cause. This type of sensory stimulation therapy provides an alternative treatment option for many mental health conditions and can provide a natural solution for improved well-being.
Solara Mental Health in San Diego uses light and sound therapy to help treat veterans struggling with mental health disorders. This treatment method has been effective in improving mental health and helping veterans struggling with trauma. Light and sound therapy is combined with traditional therapeutic modalities to best treat veterans' mental health disorders.
What is Light and Sound Therapy?
Light and sound therapy are two therapeutic techniques that use light and sound to improve physical and mental health. Einstein's discoveries about the electromagnetic field, energy, matter, and vibration have laid the foundation for light and sound therapy. This therapy involves harnessing the vibrational frequencies associated with the body's acupuncture meridians, chakra system, and the twelve colors of the visible light spectrum and twelve sound frequency intervals of the musical scale to correct physical, psychological, emotional, and spiritual imbalances.
Light Therapy stimulates brain activity and supports the body's immune system, endocrine system, and other organs with light wave frequencies. In addition to entering through the eyes, light can penetrate the skin and chakras, impacting emotions, mood, and physical health.
Sound Therapy is based on the concept of resonance and harmony. We can instinctively recognize the vibration of sound and its effects.
Loud, explosive sounds create fear, while beautiful music can emotionally move us. Chaotic, random sounds bring about dissonance. However, focused sound enables us to reach a state of harmony.
What Can Light and Sound Therapy Help With?
Light and sound therapy are believed to work by stimulating the release of neurotransmitters to help the brain function while helping activate the body's natural healing processes. It is ideal for various mental health disorders, such as:
Anxiety
Anxiety disorders can create challenges in everyday life. While medication is often used to treat anxiety, light and sound therapy can be incredibly beneficial as well. This holistic approach to anxiety treatment helps stimulate the brain in ways that naturally calm the mind and body. People who struggle with symptoms of anxiety disorders can better manage their condition by using the body's natural healing processes.
Depression
For people who struggle with depression, finding relief from the day-to-day low emotions can seem impossible. Some people may have tried traditional forms of therapy and treatment, including using medication to treat depressive symptoms.
Light and sound therapy is part of a holistic approach to treating depression. This form of therapy helps put participants in a relaxed state and can help manage some of the symptoms of depression. Depression patients can benefit from resetting the brain and nervous system into a state of harmony.
Post-Traumatic Stress Disorder
Post-traumatic stress disorder (PTSD) can be caused by a number of reasons. Trauma affects all people differently. For some people who struggle with PTSD, many traditional forms of therapy can only do so much. However, light and sound therapy can be incredibly beneficial to people with PTSD.
Light and sound therapy are often used to relax and soothe patients who are undergoing PTSD treatment. This approach is rooted in natural healing and helps the body come back from a state of distress which is common among people struggling with PTSD.
Benefits of Using Light and Sound Therapy
Improved Sleep
The therapy can help those with insomnia and other sleep disorders improve their sleep patterns. The light stimulation affects the body's natural circadian rhythm, which aids relaxation and sleep preparation. Sound therapy creates a calming environment by blocking distracting noises and providing soothing ones. This can create a more restful atmosphere, making it easier for the body and mind to relax and fall asleep.
Reduced Stress and Anxiety
Light and sound therapy for anxiety helps with stress and anxiety reduction. The light stimulates the body's natural relaxation response, which can help to reduce stress levels. Sound therapy promotes relaxation and helps to create a peaceful environment. They reduce stress levels in the body or make it easier to manage stress and anxiety.
Improved Mood
Mood enhancement might also benefit from light and sound treatment. Serotonin, a neurotransmitter in charge of sensations of happiness and well-being, is produced naturally by the body due to the light's stimulation. The peaceful environment that sound therapy helps to generate can assist in lessening emotions of anxiety and despair. They contribute to the development of a happier and more upbeat attitude.
Improved Concentration
To aid in enhancing concentration, light and sound therapies are still ideal. The light can improve focus and concentration as it aids in triggering the body's natural alertness response. Sound therapy's ability to drown out distracting noises and create a more serene setting may enhance concentration and focus.
Improved Immune System
Light and Sound therapy also aid in the improvement of the body's immune system. Light stimulates the body's production of endorphins, which can aid in the reduction of inflammation and the strengthening of the immune system. Sound therapy can help improve the overall functioning of the immune system by creating a calming environment.
How Light and Sound Therapy Helps Veterans
The therapy can be beneficial for veterans with mental health conditions. Studies have shown that light therapy can help with symptoms of PTSD, depression, and anxiety, while sound therapy can aid in relaxation and stress reduction.
Furthermore, light and sound therapy can help improve sleep, which can be especially beneficial for veterans with insomnia or other sleep disturbances. The therapy can be used as an adjunct to other treatments, such as medications and psychotherapy, to help improve outcomes.
Light and Sound Therapy in San Diego
Light and sound therapy is part of a holistic approach to mental health treatment. At Solara, we understand that each veteran comes with a unique set of concerns. Our mental health professionals have experience treating veterans with a variety of mental health concerns.
Veterans who have continuously struggled with conditions such as PTSD, anxiety, or depression should consider light and sound therapy as a part of their treatment plan. Light and sound therapy is a natural and non-invasive option for treating veterans.
Solara Mental Health in San Diego, CA has a proven track record of supporting veterans as they recover from their mental health issues. We provide residential mental health treatment with holistic, evidence-based therapies to help veterans find relief.
Michelle Family
I want to thank you and the entire staff and support system at Solara for taking such good care of my sister. On behalf of my entire family, we want you all to understand that your patience and kindness stretches further than you can see… Thank you, again and again, from the bottom of my heart.
Terri
The Solara Treatment Program was a life-changing experience for me. To be able to heal in such a beautiful, peaceful environment, with such a terrific treatment team, was so amazingly positive. I have found my true self, again. I thank you and my family thanks you for helping me become the person I was meant to be.
Lauren
The Solara program is truly amazing. I've never had more clarity or more good energy in my entire life. The attention the physicians and the therapists gave me was outstanding. I feel like they truly understood and addressed my issues, which had consumed my life for years. Thank you all.
Dad
We are so grateful to you for the treatment and care you provided our daughter. She is doing unbelievably well now thanks to your program. We will gladly tell anyone we encounter that needs treatment about the wonderful work you do at Solara.
Bill
The program has given me the tools I needed to really gain stability. For the first time in years - maybe for as long as I can remember, actually, I'm learning how to cope and manage my stressors and triggers. I now believe that I can find some relief and happiness.
Husband
Solara was truly a life-changing experience for me and for our children, because of what you did for my wife! The treatment team was phenomenally supportive and perfect for helping her with her anxiety and depression. We are all now moving forward to put our lives back together and it started with you all in Pacific Beach. Thank you for what you do.
Bradley
The therapists and counselors and really whole team were extremely beneficial to me and my understanding of my issues. The treatment plan they developed was exactly what I needed
Alex
I have never felt better than I do now, since completing your program. The truly caring and supportive staff and the intensive program changed my life. What a neat place to stay for treatment - I love Pacific Beach! I have learned skills and behavior to move forward with my life thanks to you.
Watson Family
Solara's program was such a positive experience for our mom (and for us)! She had become almost impossible to deal with. Your entire staff was phenomenally supportive and kind and patient with her. We feel like we've got our mom back, now.
Lynn
Even though I'm not religious, I realized when I got sober that for the first time in my life I wanted to explore my spiritual side. I benefited hugely from the individual spiritual sessions that I had with Chris. I'm really grateful for that aspect of the whole treatment experience.
R.M. – Father
If not for Solara Mental Health, I am almost positive that our daughter would not be as advanced in her treatment, and would not have the almost miraculous confident and positive outlook that she has.
M.P. – Father
Your program provided our daughter with the most masterful therapist we have ever encountered (and we have used many).  She has had an unbelievable ability to see the long-term trajectory of our daughter's treatment and to approach her treatment in stages that fit where my daughter's development was.  We can't say enough positive about her.