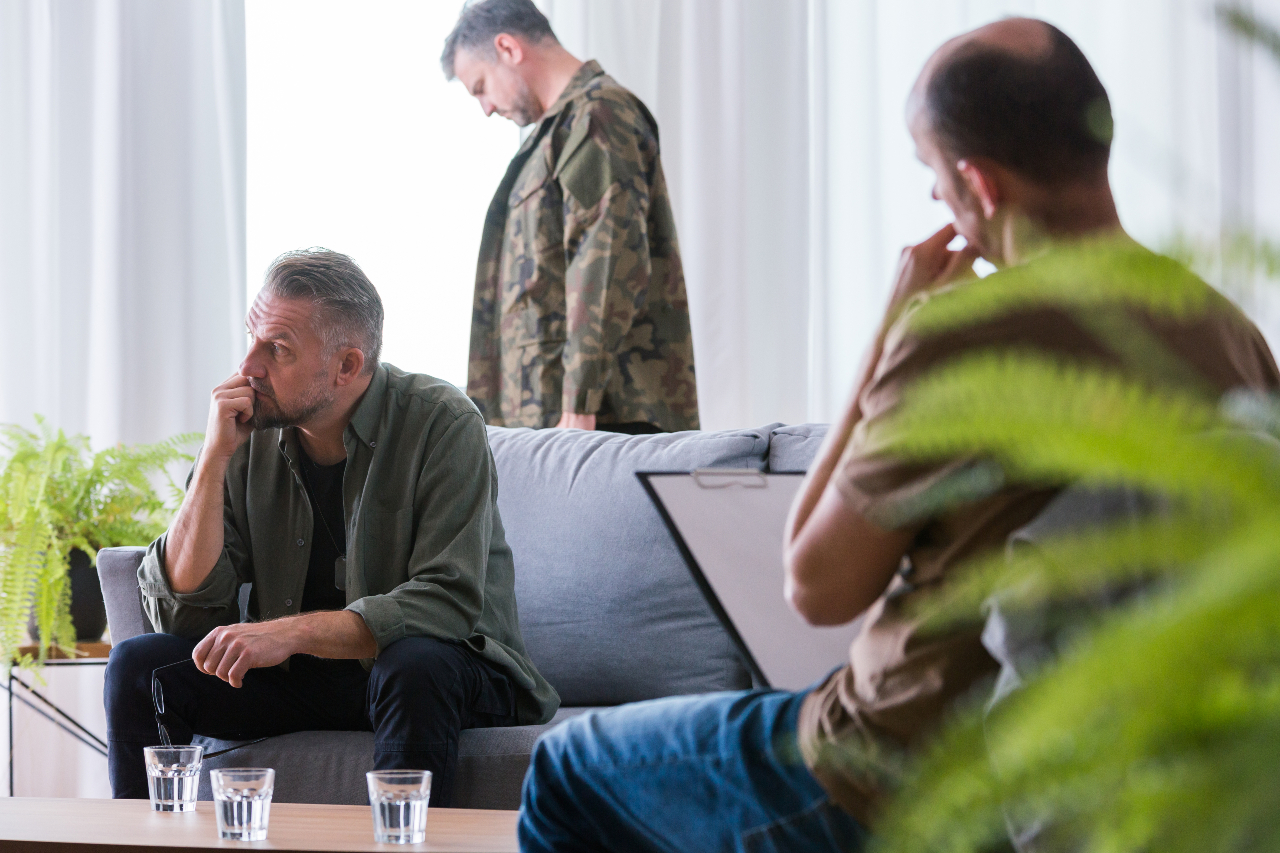 We understand mental illness and the difficulties it creates for those who suffer from it. At our San Diego Mental Health Treatment Center we are sensitive to your challenges. Solara will find every possible solution to enable you to live the life that you are meant to live.
Mental Health and Wellness
Trauma Group
Trauma can come in many forms. Most people who experience a traumatic event (such as a car accident, a terrorist attack, sexual assault or child abuse) will experience post-traumatic symptoms for a period of time. A smaller portion of trauma survivors will develop post traumatic stress disorder or PTSD.
Many risk factors make a person more likely to develop PTSD after experiencing a trauma. These include a history of mental illness or substance abuse, extra stress after the trauma (such as losing a job or house), and limited social support. There are also resilience factors, which make it less likely that a person will develop PTSD. These include finding a support group after a traumatic event as well as seeking support from friends and family, developing a positive coping strategy and feeling good about the way one responded at the moment of that traumatic event. One such group is our trauma group therapy in San Diego.
Symptoms of Traumatic Damage
Symptoms of post traumatic stress disorder usually arise within about three months of the traumatic incident, but it is possible for them to stay hidden for years. To be considered PTSD, symptoms need to last more than a month and interfere with work or relationships.
There are a variety of symptoms for PTSD. For an adult to be diagnosed, they need to experience the following for at least one month:
– At least one re-experiencing symptoms. This could include bad dreams or flashbacks. Reminders of the situation or event can trigger re-experiencing symptoms.
– At least one avoidance symptom. Avoidance symptoms cause a person to alter their routine by avoiding places, events, objects, thoughts, or feelings related to the traumatic event. For example, an individual who was in a bad car accident may refuse to drive or ride in a car.
– At least two arousal and reactivity symptoms. These symptoms include angry outbursts, trouble sleeping, feeling tense and being easily startled. Rather than being triggered, these are usually constant and make it hard to live daily life the way the person did before the trauma.
– At least two cognition and mood symptoms. These symptoms might make a person feel detached from their family and friends and include things such as feelings of guilt, negative thoughts about oneself, loss of enjoyment, and difficulty remembering the event.
Children and teenagers can also develop PTSD, but their symptoms are typically different than adults. In very young children, it's common to regress – they might forget how to talk or begin wetting themselves again. They might reenact the traumatic event during pla, or be clingier with parents or guardians. Older children often develop disruptive behaviors, feel guilt for not preventing the event, and harbor thoughts of revenge.
Getting Help
If you recognize yourself or someone you love in this description of post-traumatic stress disorder, it might be time to look for PTSD treatment. Or, if you or someone you care about has recently experienced a traumatic event, it may be helpful to seek trauma treatment to avoid the development of PTSD. Either way, you have already taken a significant first step by finding your way to our website. When researching PTSD treatment facilities, you'll want to look for a place like Solara that is staffed by professionals who know how to help people overcome the often-debilitating effects of PTSD.
Left unaddressed, traumatic experiences, along with any resulting mental health disorders, can be profoundly distressing, painful and isolating. At our mental health treatment center, we provide a comprehensive, multimodal treatment program designed specifically for individuals struggling with the effects of trauma—and a crucial component of our program is our trauma therapy group.
Group therapy is a vital part of all veterans' experience at Solara, but for those struggling with mental disorders stemming from trauma, group therapy is especially important. Our trauma group is a safe, welcoming place where veterans can find education, support, and guidance within a group of peers who understand their experiences. Led by one of our psychiatric center's highly skilled clinicians, the group discusses what trauma is and the effects it has on a person's life.
Veterans learn and practice concrete skills for coping with triggers and discuss their experiences as they feel ready, gaining insight and support from understanding peers. In the safety of the trauma group, veterans find relief from immediate pain and come to learn that they are not alone in their struggles, helping build a solid basis for both immediate and long-term healing.
When you work with our therapists, you'll come to understand the triggers of your post-traumatic stress disorder and develop new and healthy coping strategies. After a traumatic event, most people simply want to return to the life they knew before. PTSD can make this feel impossible, but with help and resilience, you can get back to the life you want to live.
For more information about trauma group therapy, or about other treatments offered at Solara Mental Health, please contact us.
Proudly Serving Veterans
with TriWest Insurance

Michelle Family
I want to thank you and the entire staff and support system at Solara for taking such good care of my sister. On behalf of my entire family, we want you all to understand that your patience and kindness stretches further than you can see… Thank you, again and again, from the bottom of my heart.
Terri
The Solara Treatment Program was a life-changing experience for me. To be able to heal in such a beautiful, peaceful environment, with such a terrific treatment team, was so amazingly positive. I have found my true self, again. I thank you and my family thanks you for helping me become the person I was meant to be.
Lauren
The Solara program is truly amazing. I've never had more clarity or more good energy in my entire life. The attention the physicians and the therapists gave me was outstanding. I feel like they truly understood and addressed my issues, which had consumed my life for years. Thank you all.
Dad
We are so grateful to you for the treatment and care you provided our daughter. She is doing unbelievably well now thanks to your program. We will gladly tell anyone we encounter that needs treatment about the wonderful work you do at Solara.
Bill
The program has given me the tools I needed to really gain stability. For the first time in years - maybe for as long as I can remember, actually, I'm learning how to cope and manage my stressors and triggers. I now believe that I can find some relief and happiness.
Husband
Solara was truly a life-changing experience for me and for our children, because of what you did for my wife! The treatment team was phenomenally supportive and perfect for helping her with her anxiety and depression. We are all now moving forward to put our lives back together and it started with you all in Pacific Beach. Thank you for what you do.
Bradley
The therapists and counselors and really whole team were extremely beneficial to me and my understanding of my issues. The treatment plan they developed was exactly what I needed
Alex
I have never felt better than I do now, since completing your program. The truly caring and supportive staff and the intensive program changed my life. What a neat place to stay for treatment - I love Pacific Beach! I have learned skills and behavior to move forward with my life thanks to you.
Watson Family
Solara's program was such a positive experience for our mom (and for us)! She had become almost impossible to deal with. Your entire staff was phenomenally supportive and kind and patient with her. We feel like we've got our mom back, now.
Lynn
Even though I'm not religious, I realized when I got sober that for the first time in my life I wanted to explore my spiritual side. I benefited hugely from the individual spiritual sessions that I had with Chris. I'm really grateful for that aspect of the whole treatment experience.
R.M. – Father
If not for Solara Mental Health, I am almost positive that our daughter would not be as advanced in her treatment, and would not have the almost miraculous confident and positive outlook that she has.
M.P. – Father
Your program provided our daughter with the most masterful therapist we have ever encountered (and we have used many).  She has had an unbelievable ability to see the long-term trajectory of our daughter's treatment and to approach her treatment in stages that fit where my daughter's development was.  We can't say enough positive about her.