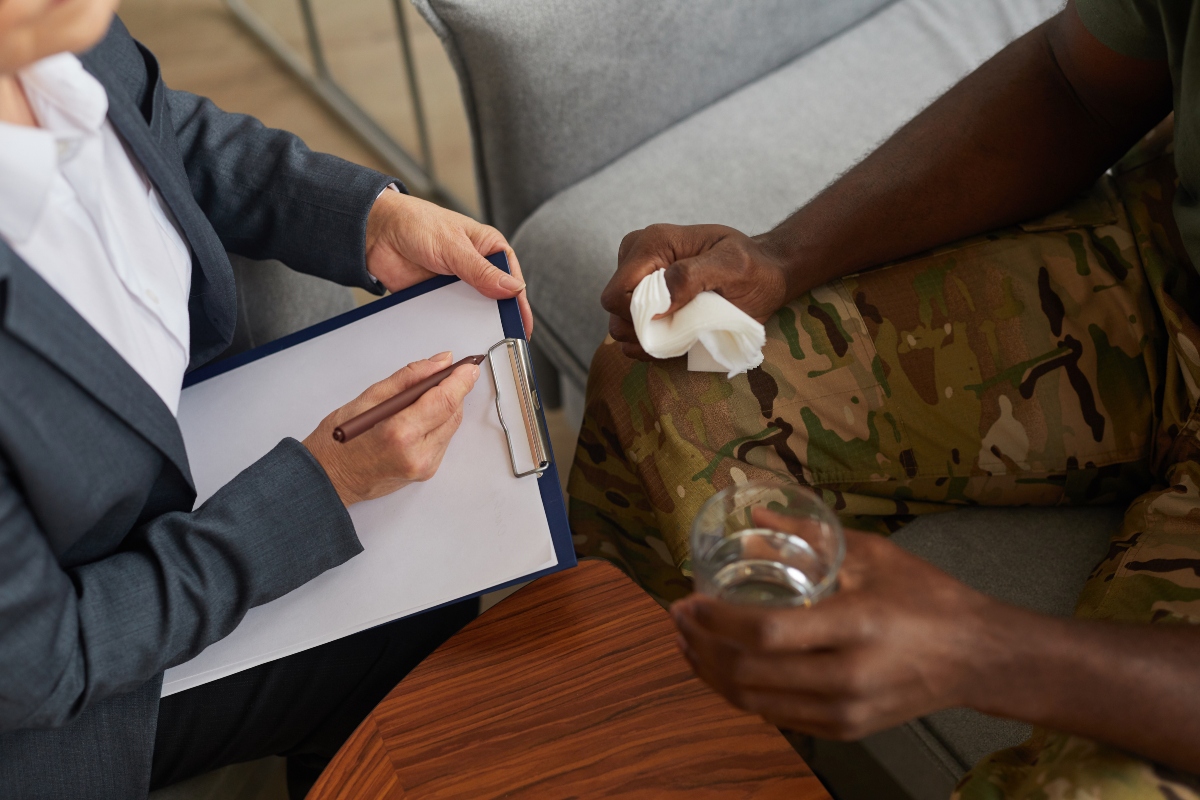 We understand mental illness and the difficulties it creates for those who suffer from it. At our San Diego Mental Health Treatment Center we are sensitive to your challenges. Solara will find every possible solution to enable you to live the life that you are meant to live.
MENTAL HEALTH AND WELLNESS
Biofeedback Therapy
Biofeedback therapy is a holistic method that utilizes monitoring equipment to measure the body's functions and can help create physiologic changes. The biofeedback therapy approach recognizes that the mind and body are interconnected and that they both play a role in our overall health and well-being. By focusing on the mind, we can also improve our physical health through applied psychophysiology.
Solara Mental Health offers biofeedback therapy in addition to evidence-based therapies to help veterans find recovery from mental health disorders. There is no one-size-fits-all approach to mental health, and what works for one person may not work for another. However, several holistic treatments can be effective for many people struggling with mental health issues, including biofeedback.
What is Biofeedback Therapy?
Biofeedback is a therapy that helps people learn to control their body's response to stress. This treatment aims to help patients learn to control their bodily response to the stimulus.
During a biofeedback session at Solara, veterans are connected to biofeedback devices that measure the body's heart rate and thermal biofeedback response to a stimulus and then provide feedback to the veteran about their response. Stimulus for a biofeedback response can include heart rate variability or skin temperature.
These biofeedback devices offer feedback that can help veterans learn to control their body's response to stress. EMG biofeedback measures uses electrodes placed on a patient's muscles to generate a feedback signal (in vision or sound) in response to muscle activation.
Biofeedback therapy is usually done in a series of sessions, with each session lasting about 30 minutes. The treatment is generally done with the help of a trained biofeedback therapist and is completed on an individual basis.
What does Biofeedback Therapy Treat?
Researchers have conducted numerous studies to evaluate the effectiveness of biofeedback for mental health. Most studies have shown that this brain activity therapy is an effective treatment option for several mental health disorders. The disorders that biofeedback treats include:
Anxiety
Anxiety is a serious mental condition that can profoundly impact a person's quality of life. Unfortunately, according to the Anxiety Center, three in every ten Americans will have an anxiety disorder at some point in their lives. 
Luckily, biofeedback is an effective treatment for anxiety. A study by researchers from the Narayana Dental College and Hospital in India revealed that biofeedback therapy helped reduce anxiety levels in children during their initial appointments.
Firstly, the treatment lets veterans recognize how their breathing patterns change during anxious moments. So, when anxiety strikes, veterans can manage their response to stressful stimuli through breathing exercises and other coping techniques. This can give them greater control in overwhelming, anxiety-inducing situations. 
Post Traumatic Stress Disorder (PTSD) in Veterans
PTSD is a serious condition that can significantly impact a veteran's life. It can cause various symptoms that interfere with work, relationships, and day-to-day activities.
Evidence suggests that biofeedback can be an effective treatment for PTSD. A pilot study of neurofeedback for chronic PTSD found that individuals who underwent biofeedback therapy showed significantly lower levels of PTSD symptoms compared to those who did not receive treatment.
Attention-Deficit/Hyperactivity Disorder
Attention Deficit Hyperactivity Disorder, or ADHD, is a mental disorder characterized by problems with focus, hyperactivity, and impulsiveness. The disorder affects millions of children, with boys being more likely to be diagnosed with it than girls. There is no one cause of ADHD, but it is thought to be a combination of genetic and environmental factors. 
Studies have shown that neurofeedback may help people with ADHD. Neurofeedback is a type of biofeedback treatment that uses brain waves to help treat ADHD. It is a non-invasive treatment that is said to help the brain to regulate itself better and to help the person with ADHD to focus better and to be less impulsive.
Major Depressive Disorder (MDD)
Major depressive disorder is a serious mental disorder that can lead to suicide if left untreated. It is characterized by a persistent and severe low mood, low self-esteem, and a loss of interest in normally enjoyable activities. The symptoms of major depressive disorder can include insomnia, fatigue, poor appetite, and difficulty concentrating. 
Studies have shown that biofeedback is a viable treatment option for major depressive disorder. An example is a 2014 pilot study that suggests that neurofeedback may be an effective treatment for depression. 
Chronic stress
Chronic stress can have a serious impact on one's mental health. It can cause anxiety and depression and make concentrating or focusing difficult. It can also lead to physical health problems, such as high blood pressure, heart disease, and diabetes.
In a study involving 60 graduate students, results revealed that biofeedback intervention was effective in considerably lessening stress response levels. This makes this treatment a beneficial treatment option for chronic stress.
Biofeedback Therapy in San Diego, California
Biofeedback therapy is a holistic method that can be a beneficial supplemental treatment for mental health disorders. Biofeedback is performed on an individual basis and utilizes machines to help measure bodily functions. Biofeedback can be used to help reduce symptoms related to PTSD, anxiety, depression, or ADHD. 
If you or someone you know is struggling with a mental health issue and are considering biofeedback as a treatment option, you should visit Solara Mental Health. We are an inpatient mental health treatment center in San Diego, California, that specifically helps the veteran population and those with VA insurance. 
By seeking inpatient treatment at our treatment center, you will have 24-hour access to mental health professionals in a safe and secure environment. You'll also have access to medication and other treatments to help you manage your symptoms. You'll also be able to work with a treatment team to develop a plan for your long-term mental health.
Michelle Family
I want to thank you and the entire staff and support system at Solara for taking such good care of my sister. On behalf of my entire family, we want you all to understand that your patience and kindness stretches further than you can see… Thank you, again and again, from the bottom of my heart.
Terri
The Solara Treatment Program was a life-changing experience for me. To be able to heal in such a beautiful, peaceful environment, with such a terrific treatment team, was so amazingly positive. I have found my true self, again. I thank you and my family thanks you for helping me become the person I was meant to be.
Lauren
The Solara program is truly amazing. I've never had more clarity or more good energy in my entire life. The attention the physicians and the therapists gave me was outstanding. I feel like they truly understood and addressed my issues, which had consumed my life for years. Thank you all.
Dad
We are so grateful to you for the treatment and care you provided our daughter. She is doing unbelievably well now thanks to your program. We will gladly tell anyone we encounter that needs treatment about the wonderful work you do at Solara.
Bill
The program has given me the tools I needed to really gain stability. For the first time in years - maybe for as long as I can remember, actually, I'm learning how to cope and manage my stressors and triggers. I now believe that I can find some relief and happiness.
Husband
Solara was truly a life-changing experience for me and for our children, because of what you did for my wife! The treatment team was phenomenally supportive and perfect for helping her with her anxiety and depression. We are all now moving forward to put our lives back together and it started with you all in Pacific Beach. Thank you for what you do.
Bradley
The therapists and counselors and really whole team were extremely beneficial to me and my understanding of my issues. The treatment plan they developed was exactly what I needed
Alex
I have never felt better than I do now, since completing your program. The truly caring and supportive staff and the intensive program changed my life. What a neat place to stay for treatment - I love Pacific Beach! I have learned skills and behavior to move forward with my life thanks to you.
Watson Family
Solara's program was such a positive experience for our mom (and for us)! She had become almost impossible to deal with. Your entire staff was phenomenally supportive and kind and patient with her. We feel like we've got our mom back, now.
Lynn
Even though I'm not religious, I realized when I got sober that for the first time in my life I wanted to explore my spiritual side. I benefited hugely from the individual spiritual sessions that I had with Chris. I'm really grateful for that aspect of the whole treatment experience.
R.M. – Father
If not for Solara Mental Health, I am almost positive that our daughter would not be as advanced in her treatment, and would not have the almost miraculous confident and positive outlook that she has.
M.P. – Father
Your program provided our daughter with the most masterful therapist we have ever encountered (and we have used many).  She has had an unbelievable ability to see the long-term trajectory of our daughter's treatment and to approach her treatment in stages that fit where my daughter's development was.  We can't say enough positive about her.