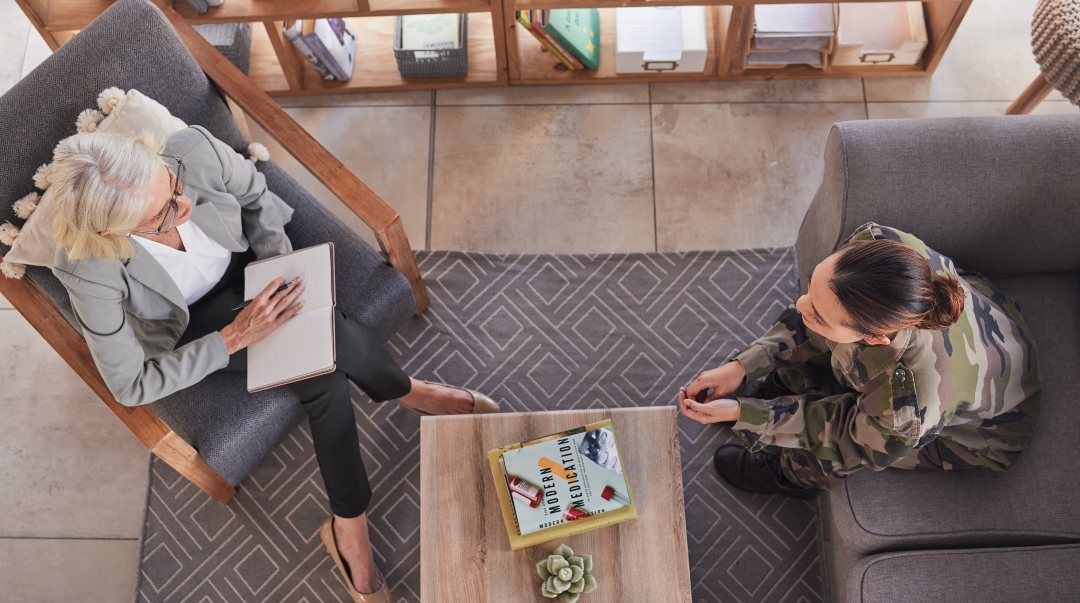 We welcome you. Our caring, experienced staff is ready to understand your needs and see you become the best possible version of yourself as you begin your new life's journey.
Mental Health and Wellness for Veterans
Vocational and Life Skills Training for Veterans
Veterans have made countless sacrifices for their country, and they deserve the opportunity to build a rewarding civilian life after their military service. Vocational and life skills training can help veterans overcome the unique challenges they face when transitioning from military to civilian life. We'll explore the importance of vocational and life skills training for veterans, different programs available, and resources and support to help veterans thrive.
The Importance of Vocational and Life Skills Training for Veterans
Transitioning from Military to Civilian Life
Transitioning from military service to civilian life can be a challenging and stressful process. Many veterans struggle to find a sense of purpose and direction, especially when it comes to their careers. Vocational and life skills training can help veterans identify their strengths, learn new skills, and build the confidence needed to navigate the civilian job market.
Overcoming Employment Barriers
Veterans often face significant employment barriers due to a lack of transferable skills, gaps in their resumes, or misconceptions about their abilities. Vocational training can help bridge the gap between military experience and civilian job requirements, making it easier for veterans to find meaningful employment and establish stable careers.
Boosting Mental Health and Well-being
Mental health is a critical component of a successful transition to civilian life. Vocational and life skills training can provide veterans with a sense of purpose, improved self-esteem, and a supportive community, all of which can contribute to better mental health outcomes.
Vocational Training Programs for Veterans
Trade and Technical Training
Many veterans possess skills that can be translated into in-demand trade and technical careers, such as construction, automotive repair, and electrical work. Trade and technical training programs help veterans build on their existing skills and gain the certifications needed to secure employment in these fields.
On-the-Job Training and Apprenticeships
On-the-job training and apprenticeships offer veterans the opportunity to learn new skills while earning a paycheck. These programs are ideal for veterans who want to gain hands-on experience in a particular field and build relationships with potential employers.
Entrepreneurship Opportunities
Veterans have a unique set of skills, experiences, and leadership abilities that can make them successful entrepreneurs. Entrepreneurship training programs can help veterans develop the business acumen and resources necessary to start and grow their own businesses.
Life Skills Training for Veterans
Financial Management
Managing personal finances can be a challenge for anyone, but it's especially important for veterans transitioning to civilian life. Financial management courses can help veterans create budgets, manage debt, and plan for their future financial goals.
Communication Skills
Effective communication is essential for building relationships and succeeding in the workplace. Veterans can benefit from communication skills training that focuses on active listening, conflict resolution, and expressing oneself clearly and professionally.
Time Management and Organization
Learning to manage time and stay organized can be a game-changer for veterans, helping them juggle multiple responsibilities and maintain work-life balance. Time management and organization courses can teach veterans practical strategies for staying on top of tasks and meeting deadlines.
Resources and Support for Veterans
Government Programs and Assistance
Various government programs and assistance are available to support veterans in their vocational and life skills training pursuits. The Department of Veterans Affairs (VA) offers resources such as the GI Bill, Vocational Rehabilitation and Employment (VR&E) services, and the Veterans Employment and Training Service (VETS).
Nonprofit and Community-Based Organizations
In addition to government support, numerous nonprofit and community-based organizations focus on helping veterans succeed in their transition to civilian life. These organizations offer vocational training, life skills courses, and other supportive services tailored to veterans' unique needs.
Transportation, Housing, & Accommodations for Vets
Along with transportation, Solara can provide long-term housing at its beautiful Pacific Beach, San Diego residences that are close to the treatment center. These housing accommodations can be provided for both inpatient and outpatient treatment that may follow inpatient treatment.
Veterans may remain in housing for as many weeks or months as the VA insurance authorizes. We often find that the VA authorizes a considerable length of stay, allowing us the ability to provide quality treatment for the amount of time needed to heal and recover.
View our facilities in Pacific Beach to get a preview of what you might expect when choosing Solara Mental Health as your care provider.
Solara's Vocational and Life Skills Training for Veterans in San Diego
Solara Mental Health in San Diego is focused on giving veterans a supportive and safe environment to work on their plans for the future. Our mental health treatment facility recognizes that each veteran will have their own personal needs, and we will tailor their treatment plan to fit their needs.
Solara is contracted with the VA insurance (TriWest) in order to help veterans with their mental health needs. As long as authorization is approved, we provide housing, transportation, and accommodations.
Vocational and life skills training are crucial in helping veterans successfully transition to civilian life and overcome the challenges they face during this process. By taking advantage of available resources and support, veterans can build rewarding careers, develop essential life skills, and thrive in their new lives outside the military.
As a society, it's our responsibility to ensure that the brave men and women who have served our country receive the support they need to succeed.
If you have any questions or want to learn more about our programs at Solara Mental health, contact us today.
Michelle Family
I want to thank you and the entire staff and support system at Solara for taking such good care of my sister. On behalf of my entire family, we want you all to understand that your patience and kindness stretches further than you can see… Thank you, again and again, from the bottom of my heart.
Terri
The Solara Treatment Program was a life-changing experience for me. To be able to heal in such a beautiful, peaceful environment, with such a terrific treatment team, was so amazingly positive. I have found my true self, again. I thank you and my family thanks you for helping me become the person I was meant to be.
Lauren
The Solara program is truly amazing. I've never had more clarity or more good energy in my entire life. The attention the physicians and the therapists gave me was outstanding. I feel like they truly understood and addressed my issues, which had consumed my life for years. Thank you all.
Dad
We are so grateful to you for the treatment and care you provided our daughter. She is doing unbelievably well now thanks to your program. We will gladly tell anyone we encounter that needs treatment about the wonderful work you do at Solara.
Bill
The program has given me the tools I needed to really gain stability. For the first time in years - maybe for as long as I can remember, actually, I'm learning how to cope and manage my stressors and triggers. I now believe that I can find some relief and happiness.
Husband
Solara was truly a life-changing experience for me and for our children, because of what you did for my wife! The treatment team was phenomenally supportive and perfect for helping her with her anxiety and depression. We are all now moving forward to put our lives back together and it started with you all in Pacific Beach. Thank you for what you do.
Bradley
The therapists and counselors and really whole team were extremely beneficial to me and my understanding of my issues. The treatment plan they developed was exactly what I needed
Alex
I have never felt better than I do now, since completing your program. The truly caring and supportive staff and the intensive program changed my life. What a neat place to stay for treatment - I love Pacific Beach! I have learned skills and behavior to move forward with my life thanks to you.
Watson Family
Solara's program was such a positive experience for our mom (and for us)! She had become almost impossible to deal with. Your entire staff was phenomenally supportive and kind and patient with her. We feel like we've got our mom back, now.
Lynn
Even though I'm not religious, I realized when I got sober that for the first time in my life I wanted to explore my spiritual side. I benefited hugely from the individual spiritual sessions that I had with Chris. I'm really grateful for that aspect of the whole treatment experience.
R.M. – Father
If not for Solara Mental Health, I am almost positive that our daughter would not be as advanced in her treatment, and would not have the almost miraculous confident and positive outlook that she has.
M.P. – Father
Your program provided our daughter with the most masterful therapist we have ever encountered (and we have used many).  She has had an unbelievable ability to see the long-term trajectory of our daughter's treatment and to approach her treatment in stages that fit where my daughter's development was.  We can't say enough positive about her.