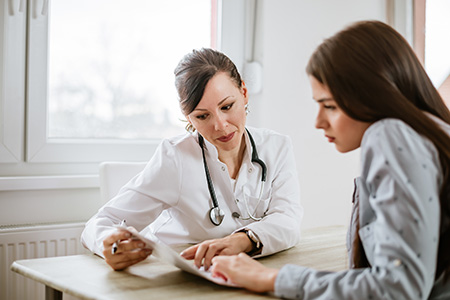 Effective Mental Health Treatment
Successful Results
Successful treatment results are the single most important consideration of a treatment program – anything and everything else is secondary and far less consequential.
Solara Mental Health has the highest success rates of any comparable psychological treatment program, according to published statistics available.
We accomplish this by providing significantly more comprehensive, more frequent, and more carefully measured psychological assessments of veterans than any other program.
Starting with our very first veteran and continuing today, we have meticulously and scientifically tracked treatment outcomes and results.
Our cohort of multi-faceted assessments is conducted on each veteran, starting upon admission, and repeated every 10 days, throughout the entire duration of treatment, right up to the time of discharge.
This evaluation protocol enables our clinical and medical team to assess the efficacy of each patient's treatment plan, and make plan modifications, immediately, if indicated by the latest evaluation results.
Thus, we are able to continually refine and expand our practices and programs to insure that every veteran achieves the healing she/he and their loved ones so desperately desire.
The treatment results data below is based on a sample of 107 of our most recent veterans.
The data reflects overall improvement (reduction in symptoms) across the entire spectrum of psychological impairments experienced by veterans, as reflected in the industry preferred scales/tests:
Beck DEPRESSION Inventory (measures Depression symptoms)
Beck ANXIETY Inventory (measures Anxiety symptoms)
DEPRESSION – 56% Reduction in Symptoms over the course of treatment at Solara
ANXIETY – 46% Reduction in Symptoms over the course of treatment at Solara
Depression – a score of 12 is considered full remission, which is the median score of these 107 veterans at the end of their treatment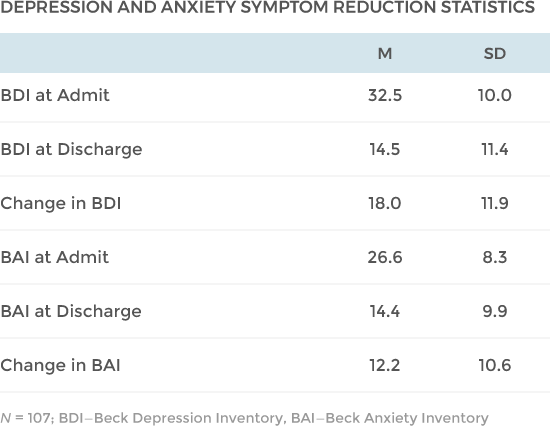 The following Box Charts evidence a monumental reduction in symptoms of DEPRESSION and symptoms of ANXIETY realized by veterans over the course of their treatment at Solara Mental Health.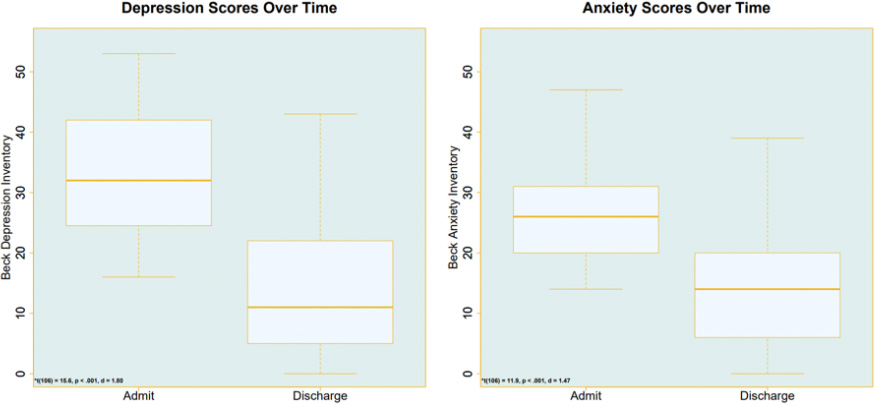 Boxplots displaying distribution of patient scores across time: The middle line in each rectangle indicates the median score for the sample
Symptom Improvement: There was a significantly large (Cohen D > .9) treatment effect across time for both DEPRESSION and ANXIETY symptom scores. From these data of 107 patients, we observe that the Solara treatment experience as a whole (e.g., psychopharmacological interventions, individual therapy, group therapy, acquisition of coping skills, mindfulness training, yoga, biofeedback, etc…) has a significantly positive effect on our demonstrably reducing veterans depressive and anxious symptoms.
Michelle Family
I want to thank you and the entire staff and support system at Solara for taking such good care of my sister. On behalf of my entire family, we want you all to understand that your patience and kindness stretches further than you can see… Thank you, again and again, from the bottom of my heart.
Terri
The Solara Treatment Program was a life-changing experience for me. To be able to heal in such a beautiful, peaceful environment, with such a terrific treatment team, was so amazingly positive. I have found my true self, again. I thank you and my family thanks you for helping me become the person I was meant to be.
Lauren
The Solara program is truly amazing. I've never had more clarity or more good energy in my entire life. The attention the physicians and the therapists gave me was outstanding. I feel like they truly understood and addressed my issues, which had consumed my life for years. Thank you all.
Dad
We are so grateful to you for the treatment and care you provided our daughter. She is doing unbelievably well now thanks to your program. We will gladly tell anyone we encounter that needs treatment about the wonderful work you do at Solara.
Bill
The program has given me the tools I needed to really gain stability. For the first time in years - maybe for as long as I can remember, actually, I'm learning how to cope and manage my stressors and triggers. I now believe that I can find some relief and happiness.
Husband
Solara was truly a life-changing experience for me and for our children, because of what you did for my wife! The treatment team was phenomenally supportive and perfect for helping her with her anxiety and depression. We are all now moving forward to put our lives back together and it started with you all in Pacific Beach. Thank you for what you do.
Bradley
The therapists and counselors and really whole team were extremely beneficial to me and my understanding of my issues. The treatment plan they developed was exactly what I needed
Alex
I have never felt better than I do now, since completing your program. The truly caring and supportive staff and the intensive program changed my life. What a neat place to stay for treatment - I love Pacific Beach! I have learned skills and behavior to move forward with my life thanks to you.
Watson Family
Solara's program was such a positive experience for our mom (and for us)! She had become almost impossible to deal with. Your entire staff was phenomenally supportive and kind and patient with her. We feel like we've got our mom back, now.
Lynn
Even though I'm not religious, I realized when I got sober that for the first time in my life I wanted to explore my spiritual side. I benefited hugely from the individual spiritual sessions that I had with Chris. I'm really grateful for that aspect of the whole treatment experience.
R.M. – Father
If not for Solara Mental Health, I am almost positive that our daughter would not be as advanced in her treatment, and would not have the almost miraculous confident and positive outlook that she has.
M.P. – Father
Your program provided our daughter with the most masterful therapist we have ever encountered (and we have used many).  She has had an unbelievable ability to see the long-term trajectory of our daughter's treatment and to approach her treatment in stages that fit where my daughter's development was.  We can't say enough positive about her.