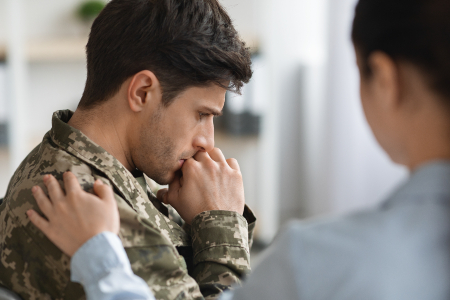 Some groups have a common misconception about who can or cannot have post-traumatic stress disorder (PTSD). It is commonly believed to be exclusively suffered by people who have served in combat. However, while military veterans often have PTSD, non-combat servicemembers and the general population can suffer from PTSD.
The reality is that there are people who have never served a day in the military who are victims of PTSD as well. Some people who have served in the military and have not been in combat struggle with PTSD.
What is Considered Non-Combat PTSD?
Some who serve in the military but who haven't necessarily been in direct combat may still have PTSD. There are several reasons why someone in the service may suffer these conditions, including the following:
Sexual Assault – Sadly, sexual assaults are somewhat common in the military. Many people within the service ranks have this crime committed against them, and the last result that can take hold after the assault itself can often manifest as PTSD. This type of suffering can remain with a person long after they have left the service, and it doesn't need to be directly connected to combat.
Death of a Fellow Servicemember – Members of our armed forces form tight bonds when they enter the service. This is done both as a coping mechanism for what they are all going through together and also because it is a way to help keep units bonded together.
Accidents – Military members can face accidents when they are serving. Situations may occur on base that causes physical, emotional, and even psychological damage to the members. This may manifest as PTSD in some people.
This shows that there are many ways for someone to develop symptoms of PTSD even if they have not been in direct combat, which is essential for all people to remember.
Can Non-Combat Veterans Have PTSD?
Non-combat veterans can experience PTSD just like combat veterans can. Although combat veterans may be at a higher risk because they are directly exposed to traumatic events daily during their job, this is not to say that non-combat veterans don't also face some hurdles. They certainly do, and it is worth taking care of all veterans, no matter their combat status.
Signs of Non-Combat PTSD
The symptoms of PTSD can show up in many different ways, and it is reasonable to say that PTSD symptoms for those with non-combat PTSD are often the same or similar to those that one may have when they have PTSD as a result of direct combat. In either case, the specific symptoms that manifest in the victim may differ from person to person.
Flashbacks
One of the most common and yet most terrifying symptoms of PTSD in many sufferers is flashbacks. This is when the sufferer recalls the event or events that caused them to have PTSD issues in the first place.
They do not ask to have these flashbacks, but it can be highly devastating for them to feel as though they are right back in the middle of what ultimately caused them an extreme amount of stress in the first place. In extreme cases, flashbacks can last anywhere from a few seconds to a few days.
Anxiety
Another symptom that many PTSD sufferers report is feelings of anxiety. They admit that they are almost constantly on edge, and this may lead to additional health issues on top of everything else. Not only do they have to worry about dealing with the anxiety directly by itself, but they may also experience high blood pressure, weight gain, and other adverse side effects as they go along. Thus, it is always best to try to have the PTSD symptoms addressed as soon as possible.
Survivor's Guilt
Ask anyone who has been in a traumatic situation where others did not survive about how they feel regarding survivor's guilt, and they are likely to have many responses for you on this question. They will be able to point directly to the feelings they experience regarding having pulled through something others did not. They may express a sense of survivor's guilt somewhat akin to depression.
After all, they feel they are not worthy of having survived something others did not. Sadly, this can sometimes lead to feelings of worthlessness, extreme guilt, depression, and worse. It is a compounding effect of PTSD that causes prolonged suffering.
Veterans PTSD Treatment Programs
The Department of Veterans Affairs stands up for veterans suffering from PTSD and offers them help with getting the assistance they require. Not only does the department itself have professionals on staff who can help those with PTSD, but they can also direct people toward the programs they need to get some help with their PTSD situation. They will gladly point people in the right direction regarding treatment programs.
These programs may include the following services:
One-on-one mental health assessment
Medication
Group therapy
One-on-one psychotherapy and family therapy
The treatments that the person living with PTSD responds to the best are available to them to help make sure they receive the assistance that they need.
PTSD Treatment for Non-Combat & Combat Veterans
Post-traumatic stress disorder (PTSD) is a mental health condition that results from trauma. Although the military is often diagnosed with this disorder, non-combat servicemembers and the general population can also struggle with this disorder. To treat PTSD, different kinds of therapy and medication can be utilized as needed. The best thing that we can do to help our veterans is to support them and show them that we care.
If you or a veteran you love has PTSD, reach out to Solara Mental Health today. The sooner we can begin to work with the person living with PTSD, the sooner we can help them find the solutions they need to make a difference in their lives. Contact us today to learn more about our veteran mental health program and how we can help.
https://solaramentalhealth.com/wp-content/uploads/non-combat-ptsd-1.jpg
300
450
Staff Writer
https://solaramentalhealth.com/wp-content/uploads/Solara-Mental-Health-Veteran-300.jpg
Staff Writer
2022-08-22 11:40:01
2022-08-22 11:40:01
Can Non-Combat Veterans Have PTSD?