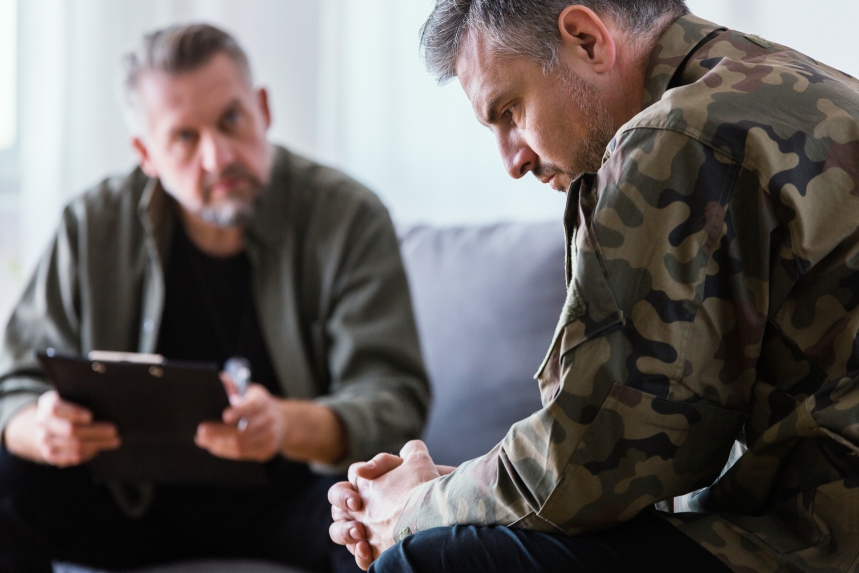 Here at Solar Mental Health, we believe that everyone is different. We offer professional support and ADHD treatment based on your individual diagnosis and needs.
Mental Health and Wellness for Veterans
ADHD Treatment in San Diego
Attention-deficit/hyperactivity disorder (ADHD) is a neurological disorder. It is characterized by a lack of attention and/or focus as well as hyperactivity. Together, these two things can interfere heavily with a person's life, disrupting their ability to focus, causing impulsive behavior and even hindering their ability to function normally in school, work and in social situations.
Beat Inattention, Forgetfulness and Fidgeting
Children are often diagnosed with ADHD. But a growing number of adults who were never diagnosed in their childhood are experiencing issues and being diagnosed later in life.
According to a 2008 psychological research study written by Neuropsychiatrist Dusan Kolar and colleagues, ADHD affects people of all ages:
"Attention deficit hyperactivity disorder (ADHD) is estimated to affect 5%–10% of the child population and from 1%–6% of the adult population… 4.4% of the adult population was determined to have clinically significant ADHD symptoms. ADHD is, therefore, a very prevalent disorder across the developmental spectrum."

— Treatment of adults with attention-deficit/hyperactivity disorder by Neuropsychiatric Disease and Treatment.
Childhood ADHD and adult ADHD manifest differently. But there are some common behaviors associated with both.
Common behaviors include:
Having difficulty sitting still
Being forgetful
Becoming easily distracted
Lacking focus on tasks
Interrupting others when they're speaking
Bouncing a knee, tugging on clothes and other forms of fidgeting could be a silent sign of ADHD. We're all forgetful sometimes, but people with ADHD forget something they decided to do a moment ago. They have trouble organizing schedules. If you frustrate your parents or spouse by seemingly 'not listening' it could also be because you're distracted as a result of ADHD.
ADHD in Children vs Adults
In childhood, people with ADHD may be inclined to leave their school desk and go to look out of the window. This can cause teachers to recommend parents express coaching and discipline.
As adults, they may make workplace errors and feel irritated by their inability to be consistently accurate. Children with ADHD often interrupt others with a non-sequitur (off-topic assertion or question). Adults with ADHD often interrupt people with a helpful suggestion that might be creative or off-topic. In either case, this can cause social tension as others often dislike being interrupted when speaking.
Our ADHD treatment plans tackle different behavioral and attention problems. If you reach out to us, your ADHD treatment will be tailored for you with a combination of therapy and medication.
The Three ADHD types
The American Psychological Association (APA) has grouped people with ADHD into three categories. These categories are predominantly-inattentive, predominantly hyperactive-impulsive, and a combination of both.
Hyperactive-Impulsive
People with hyperactive-impulsive type ADHD fidget, interrupt, can't sit still and can't wait their turn. They find it easier to start tasks than finish them due to distractions along the way. They get attention for being disruptive at school or work.
Predominantly-Inattentive
People with predominantly-inattentive type ADHD have a different problem.
They have extreme difficulty focusing, finishing tasks and following even simple instructions. They may politely request that a teacher or coworker explains something repeatedly. But, they grow frustrated by their inability to focus on what is being said. Some experts suspect that this type of ADHD often remains undiagnosed.
Diagnoses are rare for this type of ADHD when the individual doesn't behave disruptively. This type of ADHD is the most common type among women and girls.
Combined hyperactive-impulsive and inattentive
Combined hyperactive-impulsive and inattentive type ADHD is the most common variant. A mixture of the two above behavioral styles is present. This makes it very hard to focus and get things done. It also impacts social behavior and relationships.
Treating ADHD
Treatment for ADHD typically includes a combination of psychosocial treatment and medication. Each modality aims to address the range of symptoms that may be occurring within an ADHD patient.
Pharmacological Treatment
ADHD medications may include both stimulant and non-stimulant medications. Typically, longer-acting stimulants will provide better patient compliance and smoother improvement in symptoms.
Common stimulatory ADHD medications include:
Amphetamines (i.e. Adderall, Dexedrine, Desoxyn, etc.)
Phenidates (Focalin, Concerta, Ritalin, etc.)
Common non-stimulatory ADHD medications include:
Strattera (an SNRI)
Pamelor (a tricyclic antidepressant)
Intuniv
Kapvay
A psychiatrist and the patient may work through the list of medications to gauge effectiveness and minimize any side-effects experienced with them.
Therapeutic ADHD Treatments
Psychotherapy and psychiatric counseling can help people with ADHD better control their symptoms. They may be especially effective in helping children as well.
Psychotherapy can help those with ADHD better handle relationships that are affected by the disorder. It can also help identify patterns, helping one make better choices for their future.
Behavior Therapy (BT) can help people monitor and change their behaviors. These strategies involve direct feedback to help the person realize suitable behaviors.
Social Skills Training can be useful in children, teaching them to adhere to common social etiquette — allowing them to fit in more seemlessly with the people around them.
Parental Skill Training can help parents of children with ADHD, by teaching them the proper techniques and providing the tools needed to understand and manage their child's behaviors.
Solara's ADHD Treatment for Veterans
Hyperactivity and inattention are hallmarks of attention-deficit/hyperactivity disorder (ADHD). In acceptance and commitment therapy, or ACT-D therapy, veterans learn how to manage negative thoughts and feelings. Understanding each veteran's specific diagnosis is crucial for the treatment, that's why at Solara Mental Health San Diego our staff of professionals is ready to assist each patient accordingly through a personalized treatment plan.
Solara Mental Health is VA contracted as a community care provider, which gives us the unique opportunity to help veterans with their needs. Once authorized, housing, transportation, and accommodations will be provided.
Proudly Serving Veterans
with TriWest Insurance

Michelle Family
I want to thank you and the entire staff and support system at Solara for taking such good care of my sister. On behalf of my entire family, we want you all to understand that your patience and kindness stretches further than you can see… Thank you, again and again, from the bottom of my heart.
Terri
The Solara Treatment Program was a life-changing experience for me. To be able to heal in such a beautiful, peaceful environment, with such a terrific treatment team, was so amazingly positive. I have found my true self, again. I thank you and my family thanks you for helping me become the person I was meant to be.
Lauren
The Solara program is truly amazing. I've never had more clarity or more good energy in my entire life. The attention the physicians and the therapists gave me was outstanding. I feel like they truly understood and addressed my issues, which had consumed my life for years. Thank you all.
Dad
We are so grateful to you for the treatment and care you provided our daughter. She is doing unbelievably well now thanks to your program. We will gladly tell anyone we encounter that needs treatment about the wonderful work you do at Solara.
Bill
The program has given me the tools I needed to really gain stability. For the first time in years - maybe for as long as I can remember, actually, I'm learning how to cope and manage my stressors and triggers. I now believe that I can find some relief and happiness.
Husband
Solara was truly a life-changing experience for me and for our children, because of what you did for my wife! The treatment team was phenomenally supportive and perfect for helping her with her anxiety and depression. We are all now moving forward to put our lives back together and it started with you all in Pacific Beach. Thank you for what you do.
Bradley
The therapists and counselors and really whole team were extremely beneficial to me and my understanding of my issues. The treatment plan they developed was exactly what I needed
Alex
I have never felt better than I do now, since completing your program. The truly caring and supportive staff and the intensive program changed my life. What a neat place to stay for treatment - I love Pacific Beach! I have learned skills and behavior to move forward with my life thanks to you.
Watson Family
Solara's program was such a positive experience for our mom (and for us)! She had become almost impossible to deal with. Your entire staff was phenomenally supportive and kind and patient with her. We feel like we've got our mom back, now.
Lynn
Even though I'm not religious, I realized when I got sober that for the first time in my life I wanted to explore my spiritual side. I benefited hugely from the individual spiritual sessions that I had with Chris. I'm really grateful for that aspect of the whole treatment experience.
R.M. – Father
If not for Solara Mental Health, I am almost positive that our daughter would not be as advanced in her treatment, and would not have the almost miraculous confident and positive outlook that she has.
M.P. – Father
Your program provided our daughter with the most masterful therapist we have ever encountered (and we have used many).  She has had an unbelievable ability to see the long-term trajectory of our daughter's treatment and to approach her treatment in stages that fit where my daughter's development was.  We can't say enough positive about her.