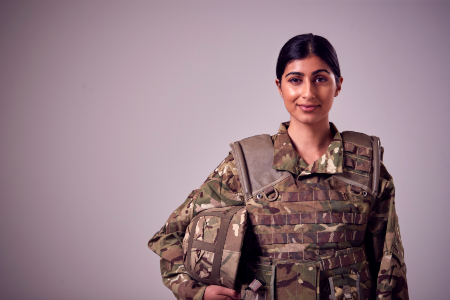 Today, the number of women enlisting in the US military stands at 14.6%. This is the highest number of women in the military ever recorded in history. Women are the fastest-growing veteran group, with almost 2 million living women veterans. They make up 10% of the total American veteran population.
Despite their sacrifice, women still face challenges that regularly put them at risk of isolation and victimization while on active duty. Also, it proves challenging to transition to civilian life due to systems that remain primarily male-focused in their service delivery. This article discusses female veteran issues, including military sexual trauma (MST), gender differences, unemployment, post-traumatic stress disorder (PTSD), and homelessness.
Gender Differences in Veterans
Women's increased activity in combat operations has spiked an interest in their deployment experiences and transition into civilian life. Understanding female veterans' emotional and mental issues allows for better mental and physical health treatment.
Women have different experiences from their male counterparts. Female veterans face several issues after their military service. This includes MST, PTSD, homelessness, and unemployment.
In addition, women may face several health issues when military service has been completed. These health issues include thyroid problems, migraines, gastrointestinal and musculoskeletal conditions, e.t.c.
Military Sexual Trauma (MST)
MST refers to sexual assault or sexual harassment during active military duty. Reports indicate that 1 in 4 female veterans under the Department of Veteran Affairs (VA) healthcare system have experienced MST. While women are at greater risk, about 40% who report MST are men.
Women tend not to report sexual assault due to various reasons. They may want to forget the assault and move on with their lives. Sometimes they may feel ashamed and not want people to know about the assault. Most women also fear retaliation from their co-workers and are afraid no one will believe their accusations.
MST involves any sexual activity one is involved in against their will or when they cannot say no. Some examples include:
Sexual encounters when unable to give consent, such as when intoxicated or asleep
Forced sexual activities
Repeated sexual advances
Inappropriate sexual jokes or remarks
Uncomfortable physical contact, including during "hazing" experiences
Requests of sexual favors with a promise of better treatment
MST can happen to people of all races, ages, gender, sexual orientations, and service branches. It can negatively affect one's physical and mental health, even years after the incident. It is advisable to seek professional help for female veterans experiencing MST and explore different options to regain control.
Some associated symptoms of MST include:
Psychological health issues and post-traumatic stress disorder (PTSD) include disturbing nightmares and memories.
Substance abuse to escape negative feelings
Self-doubt, self-blame, or low self-esteem
Physical health problems such as chronic pain or eating disorder
Challenge with relationships and engaging in social activities
PTSD in Female Veterans Vs. Male Veterans
The VA defines PTSD as the persistent symptoms causing difficulty in functioning after exposure to a traumatic event. PTSD makes it extremely difficult for veterans to successfully reintegrate into society due to its varying symptoms.
The common symptoms of PTSD include:
Severe anxiety
Parenting dissatisfaction
Flashbacks and nightmares
Stress and depression
Avoidance/numbing/hyperarousal
Substance abuse
Military men face a 61% chance of trauma exposure during service. While women in the military have a 51% chance of exposure to trauma during their time in the military. However, PTSD is twice as common in female veterans (10.4%-12.3%) than in male veterans (5.0%-6.0%).
Men in the military have more exposure to traumatic events. However, women seem more likely to experience PTSD symptoms after service. There are a few potential reasons female veterans have more veterans than male counterparts.
The reasons why female veterans may be more susceptible to PTSD include:
Women experience traumas that are more prevalent for PTSD, especially sexual assault.
Women experience PTSD for a longer duration
The female gender has stronger reactions to traumatic events.
Studies show PTSD in female veterans is more often related to MST compared to combat-related in men. Also, about 15% to 35% of veterans with chronic pain experience PTSD. It is never too late to seek help for PTSD. Talking about the experiences with colleagues is an effective coping mechanism for female veterans.
Female Veteran Homelessness
Another common issue that female veterans face is homelessness. Women veterans are four times more likely to face homelessness than their male counterparts and twice as likely as civilian women.
Housing instability among female veterans is commonly associated to:
Military sexual trauma
Post-traumatic stress disorder
Substance abuse
Unemployment
Medical problems
Relationship termination
Childhood adversity
Intimate partner violence (IPV)
The housing situation is different for female veterans compared to male counterparts. While homelessness among female veterans has increased by 2% between 2018 and 2019, the men's situation has declined by 3%. Women also have dependents even when homeless but men are often alone.
In addition, men are more likely to find transitional homes or emergency shelters because most programs are designed specifically for males.
Programs such as the Maryland Center for Veterans Education and Training (MCVET) offer 24/7 housing services for female veterans. It also addresses military sexual trauma and Intimate partner violence for female veterans.
Female Veteran Unemployment
The USA Today reports a 13.5% unemployment rate among female veterans of the Iraq and Afghanistan wars. This is five times higher than the average rate for civilian women. Also, it can take up to 8 months for women veterans to find civilian jobs due to factors affecting their transition.
Common factors that make it difficult for female veterans to find civilian jobs include:
Certification issues
Lack of support
Employer discrimination
Poor physical health
Mismatched skills
Medical and mental health concerns
Although the unemployment rate for women veterans is typically higher, the highly competitive market does not improve things. Reaching out to job hunting resources and veterans for support and tips is essential. Support groups are also available to help female veterans expand their career networks.
Help for Female Veterans in San Diego, CA
The increasing women's involvement in active military roles has increased their exposure to trauma, environmental hazards, and injury. They are at a higher risk of mental and physical health issues with inadequate access to appropriate health care. Knowing and understanding these unique issues is crucial for any change to be effective. It allows the VA to serve the needs of female veterans better during and after military service.
Solara Mental Health in San Diego, California, offers mental health services to struggling veterans, including women veterans. Our veteran mental health program includes therapy, medication management as needed, and help with various mental health disorders.
https://solaramentalhealth.com/wp-content/uploads/female-veteran-problems-1.jpg
300
450
Staff Writer
https://solaramentalhealth.com/wp-content/uploads/Solara-Mental-Health-Veteran-300.jpg
Staff Writer
2022-07-20 14:17:42
2022-09-23 08:21:42
Female Veteran Issues