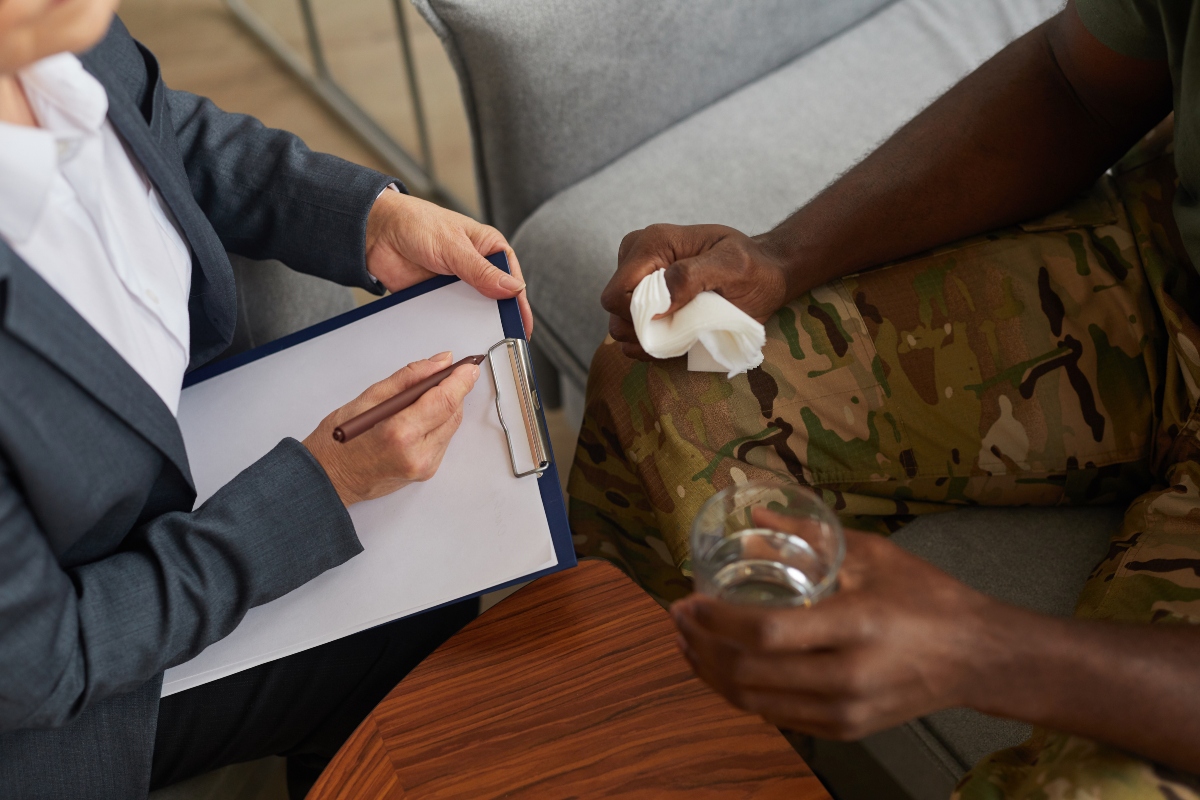 We understand mental illness and the difficulties it creates for those who suffer from it. At our San Diego Mental Health Treatment Center we are sensitive to your challenges. Solara will find every possible solution to enable you to live the life that you are meant to live.
Mental Health and Wellness
Childhood Trauma Treatment in San Diego
For people suffering from childhood trauma-related mental health disorders, Solara Mental Health provides a specialized and in-depth treatment. Our San Diego childhood trauma therapy program begins with comprehensive assessments, given by our compassionate clinicians and designed to give them a complete understanding of a veteran's traumatic experiences and the effects those experiences have on their mental, emotional, physical and psychological health.
From an understanding, clinicians can create a wholly individualized treatment plan for each veteran, specifically tailored to address their experiences, symptoms, and struggles. The expert clinicians at our mental health treatment center combine individual psychotherapy, group therapy, holistic therapies, psychotropic therapy, and Eye Movement Desensitization and Reprocessing (EMDR) to create a treatment plan that is as comprehensive and effective as it is individualized. Through the expert care provided at our psychiatric center, veterans will cultivate both the insight and the skills needed for them to process their experiences, heal and live a secure, peaceful, and fulfilling life.
Healing from Childhood Trauma
Our experiences in childhood affect us deeply. In particular, traumatic experiences in childhood—such as emotional, physical, or sexual abuse; seeing violence; divorce; natural disasters; and war—can have lasting psychological consequences, even years after the trauma is over. These psychological consequences can show themselves in a variety of mental health disorders, including anxiety disorders, mood disorders, dissociative disorders, and post-traumatic stress disorder, and can even contribute to the development of personality disorders.
Any of these disorders left untreated can have profound effects on people's lives, leading them to feel alone and scared, unable to move past the trauma and lead a fulfilling life.
Healing childhood trauma might take help from a professional mental healthcare provider and therapist to alleviate symptoms of anxiety through a range of therapeutic modalities. A good mental health care provider should be able to guide the person dealing with trauma through their experiences and find a resolution.
Steps for Recovery from Childhood Trauma
While a therapist or psychiatrist can provide the tools and insight one might need to get better, there needs to be cooperation and self-care on the patient's part.
Some steps in healing one's childhood trauma might include:
Acknowledging childhood experiences and moving past them through things like journaling, validation, affirmation, and self-forgiveness.

Identifying and analyzing the neglect and considering the bigger picture surrounding the event or events.

Identifying and analyzing your own reactions and perhaps self-harming manifestations that have risen from your developed habits.

Embracing your emotions and owning them for the reality that they are.

Mending your pain and trauma by being proactive about making a positive change in your life, or perhaps another person's life, to build self-esteem, purpose, and fulfillment.
Read our post on how to heal your inner child for more detailed information.
Treatment for Childhood Trauma in Adulthood
It is possible for childhood trauma to have adverse effects both immediately and in the future. Treatment can help you identify triggers, develop coping strategies, and decrease symptoms, all in a safe and supportive environment.
Cognitive processing therapy (CPT)
A subtype of cognitive behavioral therapy (CBT)  or usually referred to as "talk therapy", is the most common method to treat trauma. In adults with long-term effects of childhood trauma, CPT is often the first choice for treating PTSD.
Trauma-focused cognitive behavioral therapy (TF-CBT)
In this evidence-based approach, trauma-sensitive interventions are combined with cognitive behavioral techniques, humanistic principles, and family support based on the participation of trusted parents and caregivers.
Eye movement desensitization and reprocessing (EMDR) is a therapeutic modality that strives to help people who have gone through trauma to heal from those experiences, and thus better manage any resulting mental health disorders.
Narrative exposure therapy (NET)
Narrative exposure therapy (NET) consists of making each patient understand and develop a life narrative that adds context and information to our traumatic experiences. Sometimes it's hard to understand all the moving parts around our trauma, the added context includes information that we might've overlooked. 
Prolonged exposure therapy (PE)
Prolonged exposure therapy (PE) prioritizes teaching each patient that trauma-related memories are no longer harmful or dangerous and that the event is in the past and can no longer hurt them. It is usually used for treating PTSD, utilizing imaginal exposure while working with the provider and in vivo exposure in-between sessions.
Art therapy
Art therapy has been proven as an effective treatment for most people of all ages. It consists of a creative approach towards healing and self-expression when words fail. The patient would add color, shapes, and texture to experiences to better understand trauma. With a qualified clinician, the patient does not need to be an artist to experience great results from this method.
Solara's Childhood Trauma Treatment for Veterans
The goal of Solara's childhood trauma treatment for veterans is to help people who have experienced trauma heal from those experiences and to prevent the emergence of mental health disorders as a result. Understanding each veteran's specific diagnosis is crucial for the treatment, that's why at Solara Mental Health San Diego our staff of professionals is ready to assist each patient accordingly through a personalized treatment plan.
Solara Mental Health is VA-contracted as a community care provider. Once authorized, housing, transportation, and accommodations will be provided.
Treat Childhood Trauma in San Diego
Solara Mental Health understands how difficult it can be to recover from traumatic childhood experiences and their effects. To support healing, our mental health treatment center provides a calm, comfortable environment, free from the stresses of day-to-day living, where veterans can feel safe and respected as they process their experiences and learn to manage their symptoms. Our peaceful facilities are run by nurturing clinicians, who are experts in childhood trauma treatment.
As veterans work through their past, clinicians will help them develop a highly individualized treatment plan, crafted to address their specific symptoms and challenges. These plans are comprehensive but also adaptable, changing as veterans' needs do. Solara's compassionate clinicians, individualized treatment plans, and relaxing facilities will help veterans come to terms with their experiences and develop the skills needed to heal and move forward with a greater sense of confidence, security, and peace.
While our veterans make considerable and rapid improvements, childhood trauma is often a long-term condition. Through years of experience, our mental health treatment center has learned how to provide the entire spectrum of care for our veterans.  From inpatient to outpatient, from transitional living to a long-term aftercare plan, our program has been designed to free our veterans from the clutches of childhood trauma.
Contact us now to start the healing process.
Proudly Serving Veterans
with TriWest Insurance

Michelle Family
I want to thank you and the entire staff and support system at Solara for taking such good care of my sister. On behalf of my entire family, we want you all to understand that your patience and kindness stretches further than you can see… Thank you, again and again, from the bottom of my heart.
Terri
The Solara Treatment Program was a life-changing experience for me. To be able to heal in such a beautiful, peaceful environment, with such a terrific treatment team, was so amazingly positive. I have found my true self, again. I thank you and my family thanks you for helping me become the person I was meant to be.
Lauren
The Solara program is truly amazing. I've never had more clarity or more good energy in my entire life. The attention the physicians and the therapists gave me was outstanding. I feel like they truly understood and addressed my issues, which had consumed my life for years. Thank you all.
Dad
We are so grateful to you for the treatment and care you provided our daughter. She is doing unbelievably well now thanks to your program. We will gladly tell anyone we encounter that needs treatment about the wonderful work you do at Solara.
Bill
The program has given me the tools I needed to really gain stability. For the first time in years - maybe for as long as I can remember, actually, I'm learning how to cope and manage my stressors and triggers. I now believe that I can find some relief and happiness.
Husband
Solara was truly a life-changing experience for me and for our children, because of what you did for my wife! The treatment team was phenomenally supportive and perfect for helping her with her anxiety and depression. We are all now moving forward to put our lives back together and it started with you all in Pacific Beach. Thank you for what you do.
Bradley
The therapists and counselors and really whole team were extremely beneficial to me and my understanding of my issues. The treatment plan they developed was exactly what I needed
Alex
I have never felt better than I do now, since completing your program. The truly caring and supportive staff and the intensive program changed my life. What a neat place to stay for treatment - I love Pacific Beach! I have learned skills and behavior to move forward with my life thanks to you.
Watson Family
Solara's program was such a positive experience for our mom (and for us)! She had become almost impossible to deal with. Your entire staff was phenomenally supportive and kind and patient with her. We feel like we've got our mom back, now.
Lynn
Even though I'm not religious, I realized when I got sober that for the first time in my life I wanted to explore my spiritual side. I benefited hugely from the individual spiritual sessions that I had with Chris. I'm really grateful for that aspect of the whole treatment experience.
R.M. – Father
If not for Solara Mental Health, I am almost positive that our daughter would not be as advanced in her treatment, and would not have the almost miraculous confident and positive outlook that she has.
M.P. – Father
Your program provided our daughter with the most masterful therapist we have ever encountered (and we have used many).  She has had an unbelievable ability to see the long-term trajectory of our daughter's treatment and to approach her treatment in stages that fit where my daughter's development was.  We can't say enough positive about her.