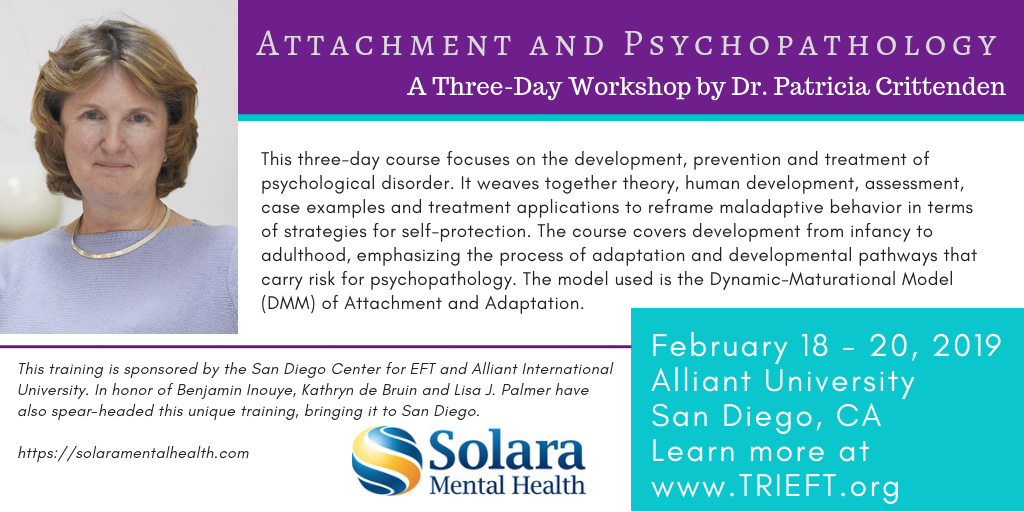 We are excited to announce that we are co-sponsoring "Attachment and Psychopathology" a three-day continuing education training February 18-20, 2019.
This unique training focuses on the development, prevention and treatment of psychological disorder. It weaves together theory, human development, assessment, case examples and treatment applications to reframe maladaptive behavior in terms of strategies for self-protection. The course covers development from infancy to adulthood, emphasizing the process of adaptation and developmental pathways that carry risk for psychopathology.
Not only is this training of particular importance to the clinical community, but Solara staff members have a personal connection to the event. This event is being held in honor of Benjamin Inouye, a fellow clinician who passed unexpectedly this year. Ben was a dearly loved and respected member of the San Diego therapy community, and we feel privileged that Solara is able to support Ben's passion for prevention of adult psychopathology.
To register for this event please go to trieft.org/attachment-crittenden
https://solaramentalhealth.com/wp-content/uploads/Solara-Mental-Health-Veteran-300.jpg
0
0
Staff Writer
https://solaramentalhealth.com/wp-content/uploads/Solara-Mental-Health-Veteran-300.jpg
Staff Writer
2018-11-02 21:59:24
2022-07-01 15:22:37
Attachment and Psychopathology Workshop