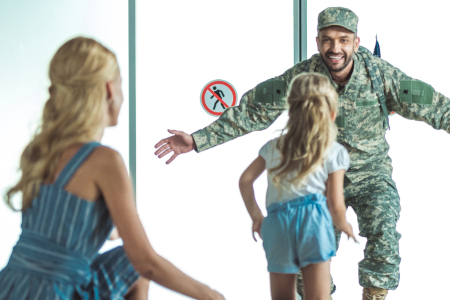 Approximately 200,000 men and women leave the U.S. military service every year and transition to civilian life. Veterans may have become accustomed to the rigors of a military routine. Most veterans' biggest challenge is deciding their career path following their discharge.
Military experience can be valuable to many employers due to the proven work ethic and dedication to the services. Finding the right job includes being prepared and putting in the work. Understanding how the skills and training developed during the service can translate to a civilian career can help make the transition to civilian life smoother.
What Is The Best Fit For You?
The best options for successful employment in civilian life will be various factors. To start thinking about a new career, consider what skills have been developed while serving this country.
In addition to those hard skills that are trained in the military, including soft skills such as:
Leadership
Financial responsibility
Teamwork
Effective communications
Integrity
A strong work ethic
Attention to detail
Ability to perform well under pressure
After developing a list of skills, helpful options are available if further assistance is needed. MilConnect Verification of Military Training (VMET) can be useful for providing a list of skills trained and developed during a military career if difficulty determining skillset arises. The US Department of Labor offers tools such as self-assessments.
Degreed vs. Non-Degreed Options
Whether or not a college degree has been obtained will impact the number of options. Obtaining a degree can create numerous options for a successful career. GI Bill benefits can help find college courses or degree programs that spark interest if a degree has not been accomplished at little to no cost.
Job options without a college degree include:
Automotive mechanic
Personal trainer
Electrician
Police officer/Security guard
Construction technician or landscape designer
Aviation technicians
Sales representatives
Account, Sales, Operations, Project, Human Resources, Quality Assurance, or Supply Chain Manager
Financial analyst
Truck driver
Mechanical, Network Security, or Software Engineer
Information security analyst
Database administrator
Many of these careers can offer growth opportunities after earning a degree and experience while getting a degree. Each of these options draws on skills commonly developed in the military.
Public Sector vs. Private Sector
The public sector offers many unique benefits for veterans at all experience levels. When working in the public sector, the work is for the state or federal government. Private sector jobs can be found almost anywhere. However, looking for companies with government contracts can combine the best use of skills and knowledge.
Public Sector Civilian Jobs
Many government jobs will have a hiring preference for veterans. The Veterans Recruitment provided by the Department of Justice helps with recruiting, training, and increasing the promotion of employment opportunities for veterans. The DOJ Veterans Employment Program Office participates in hiring events and provides resume reviews and critiques about the events.
There is a single site for applying for government jobs in every branch. When registering at usajobs.gov, uploading a copy of the DD-214 or SF-15 may be needed to prove military status. An added benefit of public sector jobs is using the existing security clearance to find positions that might pay higher.
The following federal agencies have a track record of hiring the highest percentage of veterans among their new hires:
Department of Homeland Security
National Security Agency
Department of Defense
Veterans Administration
Department of the Interior
Department of State
Department of Agriculture
Department of Transportation
Social Security Administration
Private Sector Civilian Jobs
Several private sector companies are considered to be military-friendly employers. Many of these companies are government contractors. Some have veteran-specific career development paths.
When applying to a private sector company, be prepared for the interview by learning as much as possible about the company. An inevitable question during an interview is, "what do you know about our company?" Showing interest in the company's background, products, services, statistics, and reputation can show those with hiring authority the seriousness taken for the interview.
Tools For A Successful Civilian Job Search
To have a successful job search, prepare by learning which jobs will be the best fit. The Department of Veteran Affairs has several resources available to make transitioning into the civilian workforce easier.
These benefits include:
Career counseling
Educational counseling
Counseling to help address any barriers encountered in the job search process and career transition
Support with goal planning
Resume preparation
Preparing for an Interview
After making initial contact with the company and setting up an interview, prepare for the interview by doing homework about the company in advance. Dress professionally for the interview, whether it is in-person or virtual.
When preparing for the interview, receive additional support from family if their involvement in the job process can be beneficial. Family support can make a difference in attitudes going into the interview.
When preparing to go for an in-person interview, be prepared with the following items:
Drivers license or Identification card
Social security card
Copies of the resume
Any written correspondence with the potential employer
Letters of reference
DD-214
College transcripts
Make sure to receive business cards from the interviewers. Take the time to send each interviewer a thank you card or express gratitude in an email after the interview.
In Closing
The transition from military service to a civilian career is not always easy. Many veterans can become easily frustrated and end up in positions for which they are overqualified. Taking the time to assess your skills and evaluate the value you can offer to a potential employer can make all the difference in your new career.
Veterans often struggle with mental health issues, and it can serve as a barrier to finding a civilian job. If you or a veteran you know are struggling with mental health disorders, reach out to Solara Mental Health today. Our team can answer any questions you may have and give you a better understanding of our program.
https://solaramentalhealth.com/wp-content/uploads/veteran-to-civilian-job-2-2.jpg
300
450
Staff Writer
https://solaramentalhealth.com/wp-content/uploads/Solara-Mental-Health-Veteran-300.jpg
Staff Writer
2022-04-08 11:00:51
2022-06-24 09:11:12
Tips for Veterans to Find a Civilian Job After the Military