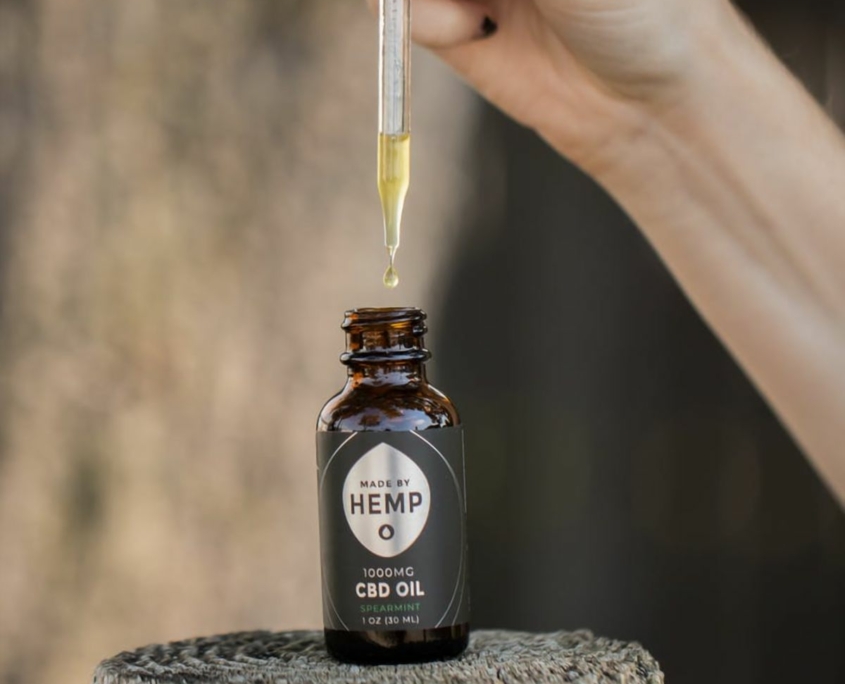 CBD Oil and Anxiety
(Is it Legal? Are There Side Effects? And is it Safe?)
With all the increasing public discussion of the topic, you may have wondered: Does CBD oil help with anxiety disorders and panic attacks? Cannabidiol (CBD) oil is a natural cannabis plant extract rich in cannabinoids (a.k.a. plant-specific chemicals), that bind to certain receptors in the human brain when consumed. The most commonly known cannabinoid is, of course, THC (tetrahydrocannabinol). THC is only one of many cannabinoids and is famous for causing people to feel "high" after smoking marijuana.
Cannabidiol, on the other hand, binds to brain receptors like other cannabinoids, but without causing a "high," and there are many who argue in favor of more mainstream use of CBD oil, arguing that it features many health benefits, that it can improve mental health, and even slow the spread of cancer in the body.
CBD oil is an oil like any other, that can be used for cooking, for adding just a few drops to a beverage, or even for direct consumption. Anyone who tells you it is healthy to smoke CBD oil may be high themselves, as there is no research to back that claim up.
About 20 percent of the population in the United States (that's one in five) suffers from some form of anxiety or other. If this includes you, you may already be on the lookout for the best ways to calm down and relax.
How does CBD oil work?
Cannabinoids are the "feelin' good" molecules released by your body when you are relaxed, feeling secure, or in the middle of something that causes you to be happy (e.g. going to bed the night before a long weekend, feeling validated by the positive comments from co-workers about a project you worked hard on and take pride in, etc.). Other times your body releases cannabinoids (the main cannabinoid molecule is known as anandamide) include times when you get enough sleep and awake feeling rested, or when you exercise.
This dynamic of your body releasing cannabinoids helps keep your body and mind in optimal balance. The release of cannabinoids helps your stomach and gastrointestinal system run well, reduces inflammation, and helps you maintain a good mood. There is research that shows that cannabinoids from CBD can stop the deterioration of anandamide in your body, and this means more ongoing "feel goods."
Is CBD oil legal? 
CBD oil, extracted from hemp, is legal all over the U.S., so it can be consumed without the accompanying legal concerns that come with marijuana use.
Does CBD oil make you high?
CBD oil will not give you a high. Supplemental CBD oil comes from the cannabis plant known as hemp, which is closely related to marijuana. But CBD oil is virtually devoid of THC (which WILL get you high). There are trace amounts of THC in CBD oil, but not nearly enough to cause any psychoactive effects. CBD oil has actually been shown to offset the effects of THC use, including the reduction of paranoia, reduction in appetite spike, and mitigating weight gain.  CBD oil relaxes the body, relieves pain, and does not suppress breathing centers the way opioids do, which eliminates any concerns regarding overdose.
The main thing CBD oil does is help you relax, reduce anxiety, and it can even help you sleep better.
Can the use of CBD oil make you test positive in a drug test?
As previously mentioned, CBD has hardly any THC worth noting, so there is slim to no chance it will make you test positive for THC in a drug test. When in doubt, it's better to consult with your employer regarding CBD oil use before taking any drug tests.
Is CBD effective to treat anxiety?
Research on animals and humans has shown that CBD may help lower feelings of isolation, reduce effects of Post-Traumatic Stress Disorder (PTSD), relieve symptoms of autism, panic attacks, and even depression. CBD oil also seems capable of calming the brain and supporting the hippocampus (area of the brain that affects memory and healthy emotion processing).
Conditions that CBD oil has been shown in research to ease include social anxiety, psychosis, negative effects of antipsychotic medications, all without more serious side effects such as paranoia, weight gain, hormone imbalance, and spike in appetite. It is also being studied to see if it can help with childhood epilepsy.
Is CBD oil safe?
CBD seems to be safe to use*. In fact, the director of the National Institute of Drug Abuse (NIDA) has asserted that CBD oil is safe. The U.S. Food and Drug Administration (FDA) has approved the use of CBD oil to treat children for epilepsy. It is worth noting that caution should be taken when approaching CBD use, as it is not regulated, nor has extensive research been done.
Keep in mind that, because of the way your liver works, CBD oil may affect the way other drugs affect your body. Be sure to check with your physician or mental health professional before you use CBD. This is NOT a substance you want to self-medicate on, especially if you have sensitive health conditions or if you're taking other prescription medications.
How much CBD oil should I take?
It's recommended to start with about 15mg of CBD oil once or twice daily with food.  CBD gummies and beverages may have already started flooding the shelves in the area where you live, but it's likely that they are made with lower grade CBD. It is important to purchase CBD oil produced by reputable companies.
It's never a good idea to take supplements for anxiety without making appropriate lifestyle and dietary changes, including stress relief practices like meditation, to get the full benefit out of them.
*Note: Solara Mental Health makes no official endorsement of CBD oil.
What do you use to relax? Leave a comment below!
Have you considered trying out CBD oil to help treat depression and/or anxiety? If so, do so responsibly by consulting with a professional, rather than self-medicate. If you or someone close to you need to talk to someone about mental health issues that seem overwhelming, we can help. Consider reaching out to our expert team at Solara Mental Health at 844-600-9747.
https://solaramentalhealth.com/wp-content/uploads/Solara-Mental-Health-Veteran-300.jpg
0
0
Staff Writer
https://solaramentalhealth.com/wp-content/uploads/Solara-Mental-Health-Veteran-300.jpg
Staff Writer
2019-04-06 20:24:49
2022-07-01 15:22:35
CBD Oil and Anxiety (Is it Legal? Are There Side Effects? And is it Safe?)